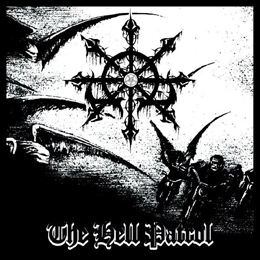 Release Date:
Monday, December 23, 2013
Omega are a Greek combo, consisting of Goulthor (g, v), Hades (v, g), Disaster (b), and Minion Of The Antichrist (d). They were formed about nine years ago and after a first demo, they were able to sign to Evil Spell Records, a sub-label of Undercover Records from Germany. In 2010 they released a first album (Second Coming, Second Crucifixion), followed in 2012 by a split-EP with Ravencult. This co-operation (not with Ravencult yet with Evil Spell) continues by means of a second full length, which lasts for forty three minutes. The head-banging filth was recorded entirely at the Red House Studio by Emmanouil 'The Devil' Hermano (it's the same guy who worked with Starve The Hydra), and it was released on tape via Heavy Metal Sturmtrupp Records, and on CD and LP via Evil Spell Records once again.
The Hell Patrol pays tribute to the Old School in each single nerve, each single neutron, proton and orgasmatron. As from Nightriders on (with lyrics co-written by Gehennah's Ronnie Ripper, by the way), you cannot but undergo a speed-up thrashbanging blackattack, containing every single ingredient that made the old school Thrash scene so spicy. This material, despite the stylistic simplicity, is not simplistic or superficial at all; on the contrary. It's like I'm fifteen again, dancing around in my bedroom like a hurricane, banging my head until I don't feel it anymore, and staring at my posters with cool motorbikes, big-breasted babes clothed in nothing but a bullet-belt and an inverted cross on their neck, and ugly, long-haired musicians. Hell yeah, this is the essence of Teutonic-oriented beer-and-babes-and-bullets-and-booze-beauty. Points of negative comment might be: the lack of originality, and / or the lack of variation - but this isn't but some nitpicking.
Think Venom and Motörhead especially, with elements of Bunker 66, Tank, Aura Noir, Intöxicated, Bulldozer, Exciter, Hellish Crossfire, Chapel etc.; it's just an impression…
Note 1: released on vinyl and CD via Evil Spell Records in December 2013, and on tape via Heavy Metal Sturmtrupp Records in August.
Note 2: the album comes with two tracks that are dedicated to the protagonists: Motörheadbanger to Motörhead and their fans (as well as the Hells Angels-cult), and Speed Metal Force is dedicated to Fenriz (Darkthrone), Christian Holm (Nekromantheon), and Olof (Enforcer). The first 'tribute'-track, by the way, Motörheadbanger, features guest vocals by Blizzard's Atze.
Note 3: other guest appearances are: Ronnie Ripper (Gehennah) on Only The Devil Knows, and lyrics for this song, as well as opener Nightriders, and Midnight's Athenar on the title track.
Note 4: it might be different from what we might expect, but the cover artwork has been created by H.R. Giger in 1989 (initially for a Hells Angels-gathering).
Note 5: Evil Thrash'n'Roll rules! No mercy!