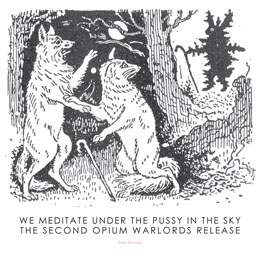 Album Title:
We Meditate Under The Pussy In The Sky
Release Date:
Friday, November 30, 2012
Opium Warlords, the brainchild of Sami A. 'Witchfinder' Hynninen (whom you might know from e.g. Reverend Bizarre, Spiritus Mortis, Armanenschaft, Lohja SS, Punisment, KLV and several more), return with We Meditate Under The Pussy In The Sky, a five-tracker that lasts for thirty five minutes. We Meditate … is a mainly instrumental record, with an approach rather typifying to Svart Records. This very same label, by the way, will release two upcoming recordings too later this year, amongst which material that had been recorded more than a decade ago, but that has never seen the light yet.
Anyway, this strange musical experience, with grandiose artwork, by the way, opens with the experimental and psychedelic track Sxi-Meru, which combines tribal sounds and droning noises, avant-garde ethnics and Post-Rock minimalism. Slippy has more of a real 'song'. The Drone / Doom track comes with suppressing keyboard lines, simplistic, quasi-ritual drum patterns and slowly-pounding riffs. There is a certain repetition going on, but after about two minutes, there's a first surprise. A semi-progressive break introduces blackish screaming, while the tempo gets speed up a lot, but this eruption lasts for a minute only. Slowly the track throttles down into more deep-spiritual integrity and intimacy… before exploding into the very same Sludge / Noise / Black ugliness again… Then again, the end of the song is acoustic and rather Neo-Folk oriented. And that's not all; a massive Doom-Death / Sludge / Black / Droner-Stoner excerpt with a gargantuan Post-Metal attitude precedes the grand finale, i.e. a short outro of traditional percussions with an exotic atmosphere. Lament For The Builders Of Khara Khoto stands for a surreal Drone with a tasteful Seventies approach as well as some additional tortured screaming at the back ground, giving this song a very horrific soul. The first part of This Wind Is A Gift From A Distant Friend is the most repetitive Drone excerpt from the album; the second part is rather Kraut / Psychedelica / Experimental in its approach. And the last (also instrumental) track, finally, called Satan Knew My Secret Heart, rather dwells in a melancholic (not of the semi-romantic kind!) Funeral Doom-sense, with a repetition that does not bore (like it might be the case with some parts of Lament … or This Wind …).
The overall production is raw, unpolished and unclean (Ildjarn or Lugubrum come to mind, at least when referring to the sound), which won't be appreciated by quite a (narrow-minded?) public.
In general this material is very interesting for being quasi-intellectual, gutsy and unconventional, yet at the same time too incoherent and maybe, just maybe, a little too monotonous as well.
Nevertheless I do look forward to enjoy the upcoming albums in a couple of months!