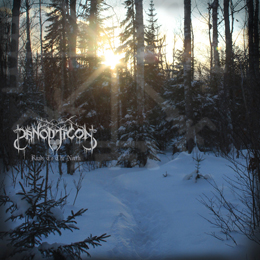 Release Date:
Monday, September 22, 2014
One of the most productive one-man projects is Panopticon, a project formed by Austin L. Lund (aka A.Lundr), whom you probably know from Seidr, though he's involved with some other bands too. Earlier this year we could enjoy the split-LP with another great American act, Falls Of Rauros (and for your info, this band recently recorded Believe In No Coming Shore, which I will review very soon too). And now Panopticon release the successor of 2012's Kentucky, which was hailed all over Mater Terra by the press and audience.
This time Austin performs as multi-instrumentalist, which includes the 'normal' instruments (vocals, bass, drums, lead and rhythm guitars, and keyboards), yet also un-traditional things like banjo and mandolin, flute and dobro.
Roads To The North was produced and engineered by Colin Marston, member in e.g. Behold… The Arctopus, Gorguts, Krallice or Dysrhythmia, and producer for bands such as Origin, Atheist or Imperial Triumphant a.o. He assisted as guest / session member too (additional keyboards and programming, and some percussion). Other guests this time are Altar Of Plagues' Dave Condon, Tanner Reed Anderson (of Celestial / Autumnal Winds / …-fame), Johan Beckers (think Cairn, Austaras or Vukari), and Jan 'Winterherz' van Berkelom (whom you might know from Waldgeflüster or Scarcross). It will be released by Nordvis in Europe, and Bindrune in America (the first collaboration in between both labels, by the way).
Roads To The North goes on, for the better part, in the vein of the former material. The album lasts for more than seventy minutes (!) and is, once again, quite an experience. Those who are trusted might know what to expect; for those not known with Panopticon's aural creations, please continue reading.
The album opens with The Echoes Of A Disharmonic Evensong (clocking nearly ten minutes). This track opens with an über-energetic introduction and soon continues as a fast, rhythmic, melodic and catchy Death / Black attitude, injected by hyper-technical riffs, brutal grunts and massive rhythms. After four minutes or so there is a first deceleration, a point of relative rest including violins (or something that sound like), spherical keyboards and more. Of course it soon goes on in the very same hyper-kinetic vein of the first minutes, balancing in between harmony and cacophony. Other highlights are the leading twin guitars at the end, the eccentric finale, the… Pfff, it's too much to sum up. And this isn't but about the first song only. with the following tracks, it gets even worse. And with worse I mean, terrible for a reviewer to make an appropriate description. Where Mountains Pierce The Sky (12:43) opens with acoustic guitars, flute and whatever kind of strings it might be. The bass lines are pretty pronounced in this song, the drum patterns are way above average, etc. The song breathes an emotional stench, which includes both melancholy and anger (a duo that goes hand in hand once again). Here too several blackened outbursts deliver an extreme identity, while the whole cannot be put in a limiting cage at all. In the middle there's a dark and well-crafted Post-Rock alike interlude that smoothly transforms into a cold, naughty and touchy melody as heavy as a mammoth's testicle. Remarkable once again, and this goes for the whole album, is the perfectly balanced equilibrium in between melodies (the bass lines and lead guitar riffs, mostly twin-oriented, and even the drum patterns…) and sheer aggression.
And this goes on and on and on. The Long Road - One Last Fire, for example, opens with mandolin and banjo (except for our Belgian horde-of-madmen Lugubrum I do not know any extreme band using banjo), adding elements from Bluegrass (!) - yiiihaw! - and further on one can also expect elements from Folk and Americana at the one hand, and different types of (Black) Metal at the other. The latter goes for both traditional-oriented as well as modern sub-styles, with several constants: the technically high-skilled melodic performance, the sublime balance in between powerful and speed-up intensity at the one hand, and emotional-integer introspection at the other, the artistic injection of bla and bla and even more bla.
Roads To The North is not just a new record, but an experience one must dare to undergo. Each single piece brings another surprise, without losing a surprisingly strong coherence. It's a challenge for ear and brain, a path not many dare to follow till the end. It's tiring to go till the end, I assure you, but it might be worth it if you want to get rid of any narrow-minding limitation.