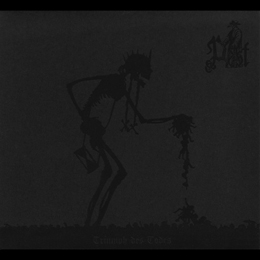 Lower-Saxony-based Pest were formed during the second half on the nineties. After a first demo, they recorded four full lengths and an EP, which undersigned does like with passion, pleasure and pain. Unfortunately the band split-up after the decease of Artur 'Mrok' Bialkowski, but Pest had one more recording finished. The other members of the band decided to release that album posthumously, appropriately entitled Buried (released earlier this year via Primal Vomit Records).
Kunsthauch will now release a compilation with rare material, taken from the 2005-MLP, the debut demo etc. The compilation opens with an untitled intro (pretty occult and esoteric) and then starts with the five tracks of the self-titled MLP. It was originally self-released, then decently distributed / released in 2007 as 12" via Bird Of Ill Omen Recordings and Nuclear War Now! Recordings, and finally remixed in 2013 for this release specifically. It brings about twenty two minutes of fast, rhythmic and violent Black Metal, rather traditional, but full of energy and persuasion. It certainly is not the most technical Black Metal recording from Germany, but it comes with a nice balance in between straight-forward aggression and atmospheric melody at the one hand, and with some nice additions at the other. This goes, for example, for the use of keyboard-based intermezzos (like the outro on Am Ende Des Wegens), weird piano-alike stuff (instrumental epic Decay), or the addition of sampling (cf. the introduction to the track Pest). The production is pretty raw, even somewhat too unclean, but for this compilation is an Underground-issue, it is of no importance.
Next comes their contribution on 2002's double-sampler Wurzelgeister, which was released as double-LP via Ketzer Records (it did also include great acts like Nagelfar, Paysage D'Hiver, Lunar Aurora etc.!). It's this song that gave the final title for this album which this review deals with. Triumph Des Todes is one of the most epic things ever done by the band, and I am truly glad to hear it for the first time (actually, in mean time it's the fifth of sixth time…), for I do not have the Ketzer-compilation in my possession.
The next tracks are previously unreleased songs, mixed especially for this record. Three of them are fully acoustic interpretations, and in is a distorted and noisy remixed reinterpretation; in both cases (the acoustic approach and the chaotic one) it is a love-it-or-hate-it situation.
Triumph Des Todes ends with material from the self-released 1998 demo-tape Schwarze Visionen. This stuff was more epic than it evolved into later on (cf. the song of the Ketzer-compilation), more closely related to the so-called Nordic Second Wave current. Besides, there was more variation in tempo, i.e. there were more slower pieces, which gave the whole a more obscure and ominous feeling. The sound might be little too delicate and hollow, but still this demo-tape was one of the best European demonstrational recordings that very same year.
Oh yes, the compilation ends with a lengthy acoustic outro, which unfortunately has nothing positive to add.