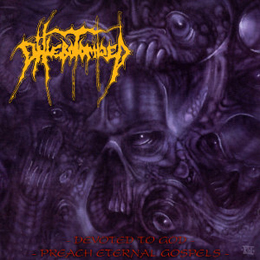 Album Title:
Devoted To God, Preaching Eternal Gospels
About twenty five years ago (we're talking about the late eighties and early nineties), a couple of Extreme Metal acts added keyboard lines to their music, not only as introduction to a recording, yet as an important 'full' instrument. Best known example probably are Nocturnus, but acts like Torchure, The Gathering or Sinoath are other comparable possibilities as well. This goes for Dutch act Phlebotomized too. Once formed as a Death Metal / Grindcore act under the moniker of Bacterial Disease at the late eighties, the band changed both name and musical approach in 1990. I still remember being blown away completely when listening to their (second) demo tape Devoted To God in 1991, and since then I have been desperately seeking for this material on CD, since cassettes from back then don't satisfy me anymore because of the inferior sound quality. There were two mini-albums (In Search Of Tranquillity and Preach Eternal Gospels) and two full lengths (Immense Intense Suspense and Skycontact) as well, but after that second full album, in 1997, the band split up.
Until now. Some of the initial members (amongst whom forming guitar player Tom Palms) reformed Phlebotomized a couple of months ago, so I guess they will start writing and recording new material soon???
In mean time, however, we can enjoy the re-mastered edition (re-mastering taken care of by the guitar player) of two of the band's earlier recordings, the 1991-demo tape Devoted To God and the mini-album Preach Eternal Gospels (1993). They have been compiled under the title Devoted To God, Preach Eternal Gospels (what an ingenious idea to create such an inventive title), along with three live tracks registered during the first half of the nineties.
Devoted To God was originally recorded at Het Pand (where Threnody and Liar Of Golgotha worked as well) and starts with the Anathema-alike intro In Search Of Tranquillity … (meaning: this intro could have been created to appear on the very early works of Anathema, why not), starting off with acoustic guitars and atmospheric keyboards, and soon evolving into a massive Doom epic. It's a perfect introduction to Subtle Disbalanced Liquidity. For a not-that-hidden part, the grinding roots from the earliest years are detectable, but for sure the whole differs immensely from any known entity - at least back then, I would say. This combination of Death Metal, Doom-Death and those weird, eerie keyboard lines was, and still is, unique, and (previously) undone. Only Italian act Sinoath might have been creating comparable experiments (cf. the demo Forged In Blood; when will this stuff be printed on compact disc???). there's a Black-edged presence too; when I listen to some leads, for example, early Possessed or Tormentor for sure come to mind. And don't forget to take notice of the influence from some great Doom-acts from the UK or Holland either.
And what about the Horror themes done through excerpts like Fate Of A Devotee? Isn't that a quasi-perfect soundtrack for some seventies' horror movie from Italy or the U.S.?...
No, seriously, what this demo stood for back then, is still unique nowadays. It's a like-or-not-like effort for sure, but imagine the visionary approach perfected through these retro-avant-garde epics…
Next come three of the five tracks from the Preach …-EP, which was originally released via Malodorous Mangled Innards Records, which was a pretty strong German label at the end of the first half of the nineties. The two tracks that are left away did appear on the Devoted …-demo, and I guess that's why they haven't been included. The stuff goes on in the vein of the demo, mixing old schooled elements from both Doom-Death Metal and primal Death Metal with a subtle dose of Grindcore and with those sinister, atmospheric keyboard leads. The title track, by the way, also includes violin lines, which would be part of the whole afterwards (read: as from the debut full length).
The three last tracks on this compilation are live registrations, recorded at three different locations / moments (1992, 1993 and 1994, always somewhere in Holland). The sound quality isn't that great, of course, but the craftsmanship of these performances is excellent. Live on stage too, the role of the keyboards is of undeniable importance, and it shows!
If you can appreciate very early The Gathering (up to Always), Impending Doom, aforementioned Sinoath, Disembowelment, Nocturnus, very early Paradise Lost and Therion, Winter, Sadist, Pan-Thy-Monium, Sadness and the likes (I would even refer to very early Samael!), then you will surely adore this stuff!