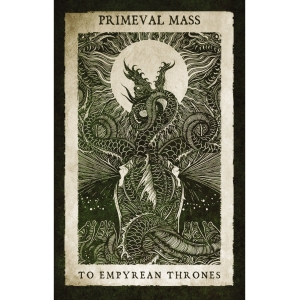 Release Date:
Wednesday, January 20, 2016
Primeval Mass are an outfit from Athens, the capital city of Greece, which was formed in 2000. After some demonstrational recordings, the project around main man Orth (currently he's involved with Eschaton too, by the way) did record and release a first album in 2009 (A Solemn Maelstrom, Stuza Productions), and a second one in 2012 (Blood Breathing Idols, Stuza Productions for tape, Katoptron IX for the CD-edition). Now Orth returns with another full release, called To Empyrean Thrones, which gets released in a co-operation in between Locust Amber Records (the Black Metal sub-division of Legs Akimbo) and Katoptron IX Records. The material was recorded in 2014, and mixed + mastered in very early 2015 by David Prudent. It comes in an edition on tape limited to 54 copies only, by the way.
What this album stands for is a rather 'traditional' form of fierce, harsh and energetic Black Metal, yet not necessarily focusing on the so-called Nordic trend (though, the word 'trend' might not, never, be considered as something negative; let's be sure about that, all right?!). Actually, Primeval Mass somehow succeed to express an old school-traditioned form of basic Black Metal (once again, 'basic' might not, never, be considered as something negative either here). Primeval Mass's effort focuses on guitar-based aggression especially, with a heading role for the vocals (which are, for sure, pretty intense, grimy and sulphured), and supported by quite a hammering-heavy rhythm section too. All right, this stuff may lack of originality, but undersigned rather focuses on quality and craftsmanship, persuasion and honesty, than (fake) originality or (would-be) creativity.
Actually, despite the lack of 'having an own face', this effort is quite convincing for several reasons. The dual guitar-leads, for example, are of an enormously high performance quality. I did mention the focus on the guitar-based essence, but believe me if I add: it is almost un-heavenly to notice the strength and perseverance, persuasion and conviction of those leading passages. Besides, and I did not mention this before, I just need to mention the sound quality, which is truly adorable: harsh and rough-edged, yet decently mixed and 'full-of-presence'. And why not, I dare to add the nomination 'Post-Black' too, for once in a while, I truly recognize the modernistic craftsmanship that characterises this project!
Personally I would have seen, sorry, heard some more variation in between the whole package. I think it's pretty incomprehensible to notice that such an 'old' project did not develop / create an own aural direction. Is it necessary? No, it is not. But it might help for sure. But in any case, the final result is more than acceptable. Primeval Mass surely brought / brings something that pays tribute to the essence of the timelessness of our beloved blackened scene. So let's be honest: if you can appreciate fast and energetic yet traditional guitar-based Timeless Black Metal, then you'll surely adore this piece of torturing ear-candy; otherwise: f***…!