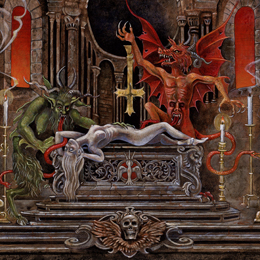 Release Date:
Tuesday, November 26, 2013
I'd like to give them a hug, my dearest, sweetest humans from Profanatica, for still pleasing us with their hymns of beauty, love and peace…
This New York-based band was formed at the very beginning of the nineties by three former Incantation-members (amongst whom Paul Ledney, who used to play with for example Revenant too before joining Incantation's crew), who left that not-that-soft band in order to go even into more extreme things, and this with assistance of John Gelso. Both Paul and John used to play together before in a band called Abomination and another one called Toten, both bringing blaspheme and chaotic, filthy Black Noise Chaos Metal Terror. During the early nineties, Profanatica recorded a couple of demos that were extremely well received by a limited yet possessed and mad audience (undersigned needs to admit he was part of the disturbed mass), but especially the wonderful EP Weeping In Heaven was of superior quality. I am not afraid to use the definition KULT. Also the split-EP/MCD with Colombia's Masacre is highly appreciated by undersigned. Unfortunately, the band split up that very same year (1992) and the members went on with other bands and projects. Paul started Havohej, another excellent act which I do like enormously, and he is active in Crowned In Semen too (which he started after Profanatica were reformed, by the way), and John formed the magnificent acts The Royal Arch Blaspheme and Contrivisti.
Before the band resurrected in 2001 (I wanted to change once again from my religion for finding a way to define my gratitude with this unholy rebirth!), there were a couple of other releases, like another split (with Singapore's finest Impiety), a live registration, and a compilation. But during the 2000's, the band started recording new material again: a couple of EP's and some full lengths, of which 2010's Disgusting Blasphemies Against God was the latest one. Last year we could enjoy the mini-album Sickened By Holy Host (a double 12"-MLP that is wished not to be considered a full album), and now our kingdom will cum once again …
The original duo (John and Paul) are responsible for all aural sickness on this thirty three-minute sonic assault once again. Big hug to both of you, guys…
So what can I add?... Thy Kingdom Cum is a nasty, filthy, angry, anti-human and anti-godly aural experience once more, dwelling within spheres of Black, Death, Thrash, Blast and Speed Metal, putting an erected middle finger deep within the behind of Mother Mary's behind (or is it a complete fist?...). it's primitive, but essential. It's elementary, and therefore primal in honesty and purity. And who cares about all those songs sounding 1) pretty much alike and 2) pretty dated? I do not, for this is Profanatica doing what they need to do. It's their barbarian primitivism that f*cks off any trend or hype, and isn't that exciting?
If I ruled a kingdom, then right now my kingdom cum…