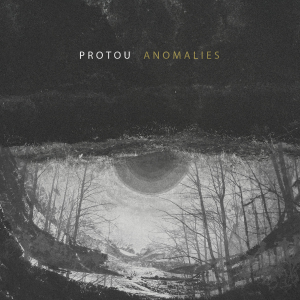 Release Date:
Monday, November 11, 2019
I do follow ProtoU as from the early years. More specific, Simon Heath once introduced me to this Ukrainian project by means of the debut Lost Here (FYI: Cryo Chamber released a split shortly before this one, with Dronny Darko, but I did not hear that one back then). Anyway, you can read in my reviews that I was, and still am, intrigued by this lady's unique project. And with 'this lady', I am talking about the artist Sasha 'Cats' Puzan, who actually was a choir vocalist and violin player before entering the realms of Drone / Ambient, and who initially experimented with Drum n Bass, Electro and Experimental Music. But since Dark Ambient gave her, and the next quote I found on the net, 'a freedom of thought in relation to the complexity of the world of wonders', she created her solo-outfit ProtoU. Me happy, Simon happy, the whole scene happy…
Sasha Puzan (with 'puzan' being the name she took from her partner, Oleh, aka Dronny Darko) created (wrote + recorded) a new album last year (+ she did take care of the production herself once again), and of course it gets released via Cryo Chamber, like almost all former material (with exception, I think, of one single thing). And once again, Cryo Chamber's Simon (Atrium Carceri, Sabled Sun etc.) did the mastering of Anomalies, as well as the wonderful artwork. There are 400 copies pressed on six-panel digipack, and fans of digital material will surely find their copy too.
Anyway, Anomalies is a seven-tracker that lasts for almost one hour. And you know, the vibe of the past gets carried on, with even more intensity and atmosphere than before. These dreamlike hymns are like long-waved escapades of mystique, based on several softly-evolving layers of synth manipulation and the addition, carefully and intimate, of field recordings and samples.
Overall, this release is the most integer one to date, with an increased integrity and an empowered intimacy. Anomalies is like a passage through timeless spheres and unphysical dimensions, defined through intoxicating waves of sound. It even has a certain meditative core somehow, you know, the levitating or hypnotic kind of introspection. The inherent monotony / aka tranquillity / of this seven-tracker explores new domains of the mental prison, begging to find a portal to evade confronting visions that somehow reappear, focusing on emotional constructions of the Inner Eye. The subtle piano and keyboard melodies veil the whole in a dense yet, at the same time, enlightening nebula of revelation and confrontation.
The abstract cinematographic character gets interrupted the righteous way more than once, when adding the aforementioned piano passages and samples / field recordings, as well as esoteric sounds, electronic fragments (like in Lucid Sequences), oppressive drones and stuff like chimes, bells or other percussion (cf. a piece like Chamber Of Visions, which has a truly meditative, spiritual thing going on).
Anomalies might be the most 'minimal' ProtoU record to date when it comes to 'sonic excitement', for the quietude has never been so dreamy – yet it has never been that intense either (!). You know, the gentle wind sets everything into slow motion once again. For some reason, and that's a strength by this fine artist, this album is cascading you with abstractions yet somehow you find sense in all of this. Listen carefully, and you will.
FYI: I will soon publish a review on Shadows Of Forgotten Legends, a collaboration of Sasha aka ProtoU with Onasander and Alphaxone (with Alphaxone, ProtoU did another collab before, called Stardust).
https://cryochamber.bandcamp.com/album/anomalies
https://www.cryochamberlabel.com/release/anomalies/
https://soundcloud.com/cryo-chamber/sets/protou-anomalies
https://www.concreteweb.be/reviews/protou-0
https://www.concreteweb.be/reviews/protou
https://www.concreteweb.be/reviews/alphaxone-protou