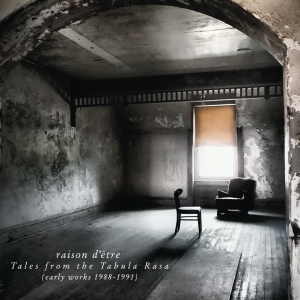 Album Title:
Tales From The Tabula Rasa (Early Works 1988-1991)
Release Date:
Tuesday, December 9, 2014
It would be a waste of time, taking too much energy from my laziness, to introduce Raison d'Être, which is probably the best known outfit by Peter Andersson. I am sort of possessed by this project as from the release of Prospectus I, though not every release that followed could totally please me. But in any case, Raison d'Être are highly influential (so are many of Peter's outfits).
Italy's Old Europa Café (ave Frater!) did re-issue several of Peter's releases (this co-operation has its roots in a far-distant era, being more than two decades ago, by means of Conspectus, if I'm not mistaken!), and I will write about, and publish, two Raison d'Être albums, Metamorphyses (in a very near future), and Tales From The Tabula Rasa (Early Works 1988-1991). The latter is, as the title explains, a collected presentation of very old works, including stuff that Peter actually wrote before he acted under the Raison d'Être banner, as well as previously unreleased stuff. …sounds good, does it not?...
Oh yes, the result is a double-album that lasts for 150 (!) minutes (indeed, two hours and a half), with all material reworked in 2014. Especially for the D:Combe-material (Combe and D:Combe can be considered pre-Raison d'Être outfits) that renewed sound might be striking, apparently. The artwork, i.e. photography, is quite sober and nihilistic, strengthening the 'emptiness', the 'tabula rasa', the initial search-for-identity that did characterise Peter Andersson's earliest efforts, as you will find out soon.
Many of the stuff on this extended retrospective had not been released on CD before, but did appear on extremely rare (and unofficial) tape editions, such as Conspectus (which was an official release, as mentioned above), Music For Garrotted Mary Jane, The Tales Of Unsanctuary or Suffering Death's Agony In Affliction. Though, many of them had been reworked for the Reflections From The Time Of Opening - MCMXCI album, which was released in 1998 via Bloodless Creations. Those trusted with that compilation know that there was more cosmic ambience going on back then, with modest amounts of experimentation and an embryonal search for creativity. Especially within the electronic sequences, Peter tried and dared to search for directions undone before. And whether you like it or not, you cannot deny the majestic vision behind the concept. As a young artist, Peter had loads of ideas, but no experience yet to give those intentions a structure, a body-and-soul, and that's something you might hear. These were the origins of the later being, and for fans and purists it must be another opportunity to extend your Raison d'Être-collection anyway!
Coming up soon, as mentioned before: a review for the extended edition of Metamorphyses…
The score reflects my idea of importance from these compositions.