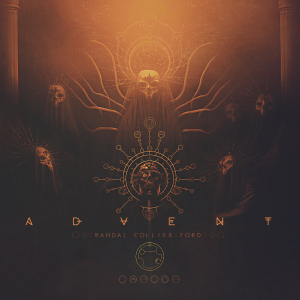 Release Date:
Tuesday, November 17, 2020
Residing in Seattle, Washington, Randal Collier-Ford is a very productive (and talented) musician, and a member of the great Cryo Chamber community. However, a great thing to notice that each of his (many) releases are, at the same time, coherent and typifying the ideas of this musician, and always inventive and renewing too. This goes once again for his latest creation, Advent.
For the xth time, this recording gets released digitally and physically via the mighty Cryo Chamber label, a magnificent Ambient label run by Simon Heath (Sabled Sun, Atrium Carceri and many more). And purely FYI, but Simon once more took care of the album's final mastering. Besides a digital edition, there is a compact disc one too, printed in an edition of 400 copies, and coming in a special 6-CD digipack with a thirty-six page (!) booklet. And not for the first time, the impressive artwork was created by Cyril Rana, by the way. There's also a version on vinyl, limited to 300 copies with poly-lined inner sleeves and a thick, solid cover (also, of course, with that cool yet occult artwork).
Advent consists of three compositions, yet the whole adventure lasts for almost forty minutes. The biography describes it as 'a worldbuilding heavy dark industrial sci-fi ambient album', and who am I to disagree. It is constructed around a very apocalyptic, scarifying and ominous concept, a horrific and devastating anti-nature that might seem more severe and lethal for man's existence, without humanity's knowledge to find out where this hostile, acid menace might come from, or what cure, what solution might save our race. A new order manifest; the future is doomed…
Beckoning Absurd Shapes, which clocks nearly twenty minutes, defines that horrifying and ominous narrative as from the very beginning. It is a foul, dishonest game, for the softly-gentle, even introspective noises sell silence and tranquillity. But that is nothing but a hoax, a deceiving message, because slowly, very sluggish, a creepy world is about to disclose its beastly side. A whole amalgam of sounds, field recordings, and synth manipulation gets canalised into obscure, claustrophobic waves of suffocative fog, divulging its poisonous character step by step, in a mostly modest manner. The hostility that grows reveals itself with an obsessive yet invisible attitude; the menace grows without noticing the listener (or the explorer) that the danger is imminent. You're getting intoxicated without awareness, and the void cannot be obviated anymore. The mesmerizing yet incredibly rich number of sounds and synth lines create such diverse, and deeply intriguing universe of spheres, and the addition of frenzy violin-like (viola? cello?) fragments and hellish drum beats (plus some other additional percussion injection) enrich that, well, I'd like to call it a Lovecraftian approach (and hey, we're talking about a Cryo Chamber release, so that's fair, is it not).
Eyes Of The Temple, which clocks less than eight minutes (boohoo), goes even further as from the start. Heavy, murky drones and pitch-dark soundwaves are gathered into an overwhelming, overcasting soundtrack, injected by many other sound sources (strings, percussion, samples etc.). there is something mechanical in the execution, creating a touch of post-industrialised flavour. But above all, the smell of sci-fi horror bedevilment permanently grows, veiling the listener in anguish and terror. Northumbria's Jim contributes, by the way, as guest.
The Second Wound (twelve minutes of duration) then again starts less usurping than its predecessor, but therefor we're not subdued to moments of rest and salvation at all. Here too, slowly yet convincingly, and unstoppably / unescapably, the well-balanced gathering of sonic haunting fragments evolve into a mighty ritual of majesty and marvel of the most obscure kind. But this goes even further, deeper into the deep (no, I do not lack of descriptive definitions, this surely goes 'deeper into the deep', where crawling out isn't possible anymore); no, seriously, first of all those piano melodies are truly captivating, even breath-catching. They start at about five minutes, adding a touch of melancholy and tristesse, and the simplicity works very well, twisting with the listener's emotions. When ritual and tribal drum beats and ultra-low drones enter, at about seven minutes, the whole turns into an eclectic yet structured form of Chaos, leaving no room for escape, healing, or rescue. Doom eventually takes over enlightenment.
Gases do suffocate earthly lifeforms, venom penetrates the soil, horrible barks and unworldly thunder become the sound of the planet, and our last breaths are grievous. It's all over.
But hehe, the good thing is that we do have the ideal soundtrack to accompany our last gasps for clean air, and this disguised as Advent…
https://cryochamber.bandcamp.com/album/advent
https://www.cryochamberlabel.com/release/advent/
https://randalcollierford.bandcamp.com/album/advent
https://www.concreteweb.be/reviews/randal-collier-ford