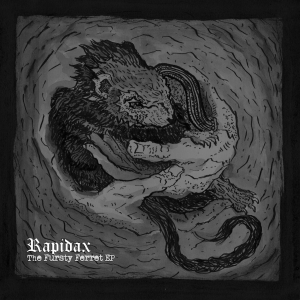 Neil from Legs Akimbo is quite open-minded within his choices to sign bands and projects on one of his labels. An example is Rapidax, a mad outfit that did debut on Legs Akimbo in 2013 when contributing on an EP by Ladyscraper. This review deals with, as for now, the sole official release by Rapidax, being the two-track EP The Fursty Ferret EP. It gets released in an edition of 109 copies, and the vinyl release was mastered by Acid Techno Hardcore artist Adam 'Freethinker' Derry.
Vermin (side A) is some frenzy Breakcore / Ultra-Techno / Psycho-Grind alike piece, mainly based on pounding bass riffs, flesh-slicing guitars, noisy electronics and mad drum beats. Quite grandiose (in case 'grandiose' could be part of this kind of sonic terror) are the few melodic guitar lines that interact so dissonantly with the Gabber-Hardcore extremity.
The Unlovables (the side-B track) starts quite remarkable, with some neo-ambient alike Pop tune (is it based on an existing melody?), before exploding into an aural orgasm of Speed / Breakcore, once again including those unique guitar lines. The somewhat yelling voices do remarkably well within the Gabber-energy. But what this song makes so unique is the excerpt with piano and a melancholic guitar solo towards the end. As soon as it gets overruled by the high-kinetic drum computer, the whole erupts into a finale that just hammers the listener's skull-less brain sadistically.