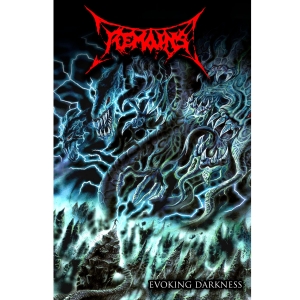 Release Date:
Wednesday, October 7, 2015
Remains are quite a young Mexican project, formed in 2011 by Miguel Angel (joined then, or afterwards, by colleagues from e.g. Anoxia, BIID, Fractal Entropy etc.). After some demonstrational material, there was a first full length release in 2014, called Angels Burned, and now Miguel returns with a new effort, called Evoking Darkness. It was firstly released on CD via a Mexican label in August 2015, and re-issued shortly after on tape via Locust Amber Records, the Metal-oriented sub-label of Legs Akimbo (a label being tape-release-focused especially, but check out two hand full of releases that will be written + uploaded very soon) in an edition of only fifty (50) copies.
It's quite remarkable to notice that this act hails from Mexico, for their Death Metal is almost a purest expression of the Swedish scene. This goes for the song writing and execution, the atmosphere, the vocals, and even the sound. Actually, why not? There are tens of bands that are not from Sweden but that perform material in the vein of Dismember, Unleashed, Grave, Entombed, Edge Of Sanity, Hypocrisy and so on, and so on. Usually those bands hail from Europe (Greece and Italy, Hungary and, for my part, even Vatican City), so do welcome these Mexicans.
With Evoking Darkness, Remains do not bring something memorable, I have to say. It's a rather predictable and even trusted form of Swedeath that you can expect. Riffs, structures, changes in tempo and composition; all of these matters have been done before, I think. But (yes, for such an optimistic guy like undersigned there was a 'but' to follow, of course; though I do prefer the female 'butt' too, but(t) that's another story…) once again it's the quality that makes the difference. I have heard tens of bands lately within the very same regions, butt, sorry, but this one for sure must be one of the strongest in song writing and execution. One of the surpluses is the variation in tempo and the subtle use of synth passages. The latter could have turned rather mellow, mainstream, pathetic, but actually it's a positive element for sure. Another fine detail, I think, is the sound quality. I have no idea how much time band leader Miguel did spend on the production and mix, but somehow he knew to maintain the subtle balance in between the essential roughness that is needed, and a clear and well-balanced sound caused by the professional mix.
Oh yes, the whole experience ends with the Unleashed-cover Dead Forever. It's a really splendid cover version, but doesn't it say it all? Didn't I mention the Swedish scene before? Here you have it, but it surely goes for the qualitative heights as well! Let's remain dead forever…