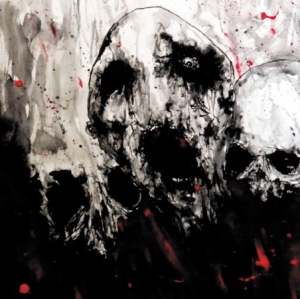 Album Title:
Sacrificia Mortuorum / Orthanc
I sort of 'adore' about everything that gets released via French Black Metal label Hass Weg Productions, simply because they do focus on true, uncompromising, qualitative releases instead of over-produced, trendy acts that try to impress with a fake image. If you click on the label's name, you will be able to find some other reviews I did for this label (I wrote them with pleasure and devotion, let's be sure about that!). Amongst them, you will find a chronicle for Orthanc, called L'Amorce Du Déclin, uploaded on February 7th 2016. I do mention this one specifically, for this new review deals with a split that includes Orthanc.
This untitled split gets released in CD-format in an edition of 1,000 copies (quite optimistic!), and as double gatefold 12"LP limited to 500 copies. I like the artwork by K.F.R's Maxime, going for both the cover drawing as the inlay designs, and I think it defines what both acts stand for, translated through visual art. Both bands involved bring some new work, as well as a cover track.
---------------------------------
The first vinyl disc or the first part of the CD are done by Sacrificia Mortuorum, hailing from the Lorraine department, and formed in 2000. The quartet did release almost a hand full of full length albums through the past decade, and they contributed on splits with the likes of mighty Horna or Arkha Sva and the crazy souls of Lugubrum. Although I do not have the impression that Sacrificia Mortuorum did split up, their collaboration on this split with Orthanc is their latest release to date. But let's focus on the Aural Art that they bring right here.
Sacrificia Mortuorum (on this album with new drummer Vasariah of Codex Inferis-fame; he left in mean time) bring forth four lengthy compositions that one must label as nothing less but 'magisterial'. This band performs a form of Black Metal that is totally rooted within the Nineties' atmosphere (sound, structures, performance), but these tracks are so overwhelmingly majestic… In general, the songs are pretty energetic in execution; also being energetic when slowing down in speed. Quite characteristic is this band's ability to combine power and aggression at the one hand, with melody and atmosphere at the other. Seriously, Sacrificia Mortuorum are quite memorable when focusing on this comparison / equilibrium. But one has to admit: their song writing and performance, although lacking of originality, is enormously superb. No matter when they are doing 'it' the more epic-styled way, the slower one, or with a full-force-ahead attitude; Sacrificia Mortuorum sort of are able to maintain a convincing attraction in each excerpt. Even the Infernum cover song Cathari Sects is pretty cool, though I prefer the original compositions of Sacrificia Mortuorum.
I do not know each single release, unfortunately, that this band did before, but I am truly impressed. It's not the fabulous song writing alone that convinces; the individual performances too are superb. And this gets strengthened by a top-quality sound, aiming for the perfect mix, giving the ability to have each contributor shining in his own craftsmanship. And this goes for each member's contribution throughout the whole recording, no matter we're talking about the fast-paced pieces, or then again the totally slowed-down ones. In short: Sacrificia Mortuorum are top-notch!
---------------------------------
The other long player / the second half of the compact disc is courtesy of one of the many, many bands called Orthanc, in this case the one from the Mediterranean shores of France. Legolas (not the pointed-eared one from Middle Earth) and Glaurung (not the fire-spitting one; although, those vocals breathe sulphur and burning acid for sure!) did record their part of this split at Studio Lac in May 2014, including one cover piece by Iron Maiden, which I will come back to soon.
I was, actually, limitedly enthusiastic on L'Amorce Du Déclin, and unfortunately here too, they do not fully persuade me. The Punk / Groove-laden Thrash-edged Black Metal, with a highly melodious character, have, and that's a positive element, quite some unique angles, like the (semi) acoustic intermezzi. But in general I do not think that the lack of power and conviction might appear as attractive. It's a hard truth, but I'm trying to be honest, you see… Performance-wise, I think it's just superb, with highly-qualitative duelling guitar riffs, fine deep-throated screams (besides the punky ones) and a massive rhythm section. But I dislike the lack of depth, but once again this isn't but a personal opinion. Also the avant-garde techniques as used in Les Forges d'Angband – Uruloki are, to my opinion, nothing but a silly try-out. Also their interpretation of Iron Maiden's Murders In the Rue Morgue is quite confusing. Orthanc rather go the Punk-way to 'translate' this track into their own vision, but I am afraid they totally miss the right road ('to miss the right road'; I wonder whether this expression truly exists; however, as from now on…).
---------------------------------
In conclusion I can say that I am not that surprised with this untitled split-album. I did expect quite a lot from Sacrificia Mortuorum, and they surely did not disappoint me at all. On the contrary, I think they have returned stronger than ever before. Orthanc, then again, did not surprise me either. I was not expecting too much, and I didn't get more than I was hoping for, in all honesty. Therefor the score will sort of canalise the middle of my (totally subjective) ideas on both bands…