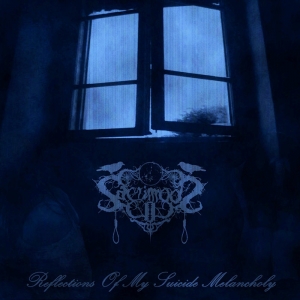 Album Title:
Reflections Of My Suicide Melancholy
About three and a half years ago, Mexican musician L. Nergot started the outfit Sacrimoon, another depressed solo-outfit to express his ideas about life and death, love and loss, tragedy and melancholy, suicide and self-mutilation. more unhappiness gets released under monikers such as Lifeless (on March 24th 2016 I uploaded a review for last year's Inner Shouts From A Sad Soul, Traurigkeit, Broken Life, Dark Fallen Star or Black Whispers; a review for Black Whispers' newest recording Shades Of Bleakness will come very soon as well, by the way.
Under the Sacrimoon moniker, Nergot did record and release some 'smaller' things, amongst which a split with two other joyful one-man outfits, Cyhiraeth and Warground. In 2015 he joined forces with Italian musician / vocalist Kjiel; she's doing her stuff as well for Lifeless and Black Whispers nowadays. And with assistance of session bass player Ky (she took care of mix and mastering as well), Nergot (vocals, guitars, drums, music and lyrics) and Kjiel (vocals and guitars) did record this first full length album in both their home countries. After signing to Vacula Productions, the release has become a fact (the very same label did release Lifeless' Inner Shouts … as well), this time in association with Germany's Wolfmond Production.
Reflections Of My Suicide Melancholy comes with pretty sober yet highly cold and depression artwork (you didn't expect rainbow colours, did you), and it consists of seven pieces that clock, all together, about fifty minutes. And there is quite some comparability with Lifeless, actually, though both projects aren't quite the same either. Of course the aural expression of all that sucks life and light out of the human psyche gets maintained right here. Tears are covering smiling faces, scars are covering the unspoiled skin, knifes and ropes replace party hats and birthday cakes (I am not into sweet candy-like stuff anyway). Sacrimoon are more atmospheric and funereally-focused, less 'heavily destructive' and more ambient in its finality (and 'finality': isn't an accidentally chosen description?).
Everything purls by, slowly, very slowly, being based on wonderfully beautiful (!) tremolo guitar melodies in the first place. Most of the time, those riffs accompany the whole experience into dimensions cold and abyssal. Quite some semi-acoustic passages bring a fine counter-balance to it, but not with the intention to decrease the wretched feelings that characterise the whole concept. All this gets supported by heavily pounding rhythms, strengthening the intensity of the compositions. Especially within the harsher, 'faster' parts (like Hopeless), their added value shows. The vocals are like recorded in a moisty dungeon, where no life, but only mortal spirits dwell.
The sound might be little 'dull', but it might not be a stumbling block. Actually it represents the band's 'adoration' for everything that denies joy and happiness – no, seriously, I think that the mix could have been done better, with more focus on bass and rhythm guitar melodies; but eventually the result is not that bad at all; especially the prominent guitar lines and the fact that the painful vocals are oh so distantly echoing, aren't but surpluses.