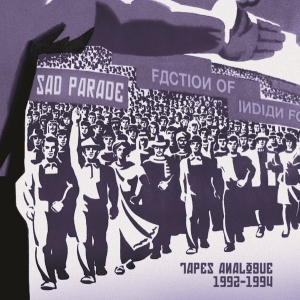 Release Date:
Friday, November 27, 2015
Okay, the Finnish band Sad Parade might surely not hit the very same status of acts like, let's say, Sisters Of Mercy, Christian Death or Nine Inch Nails, but for sure they are of a comparable level of craftsmanship. During the nineties, they were quite influential, especially in their home country, with a couple of attractive EP's going around. At the very beginning of this new century, the band ceased activities, but the rumour goes that Aku-Tuomas Mattila has plans to reform this band???
Anyway, three of this band's oldest recordings have now been compiled under the working title Tapes Analogue 1992-1994. This compilation sees the light via Aku-Tuomas' own label Plastic Passion and Russia's Frozen Light; the latter being known especially for Black / Funeral Doom stuff, as well as Industro-Ambient releases [and since undersigned did receive two hands full of -especially newer- releases by this label, you will find several reviews on their stuff in a near future, and a couple ones posted recently too].
Tapes Analogue 1992-1994 compiles the demo tapes Faction Of Indian Food and Unicorn, self-released in respectively 1992 and 1993, and the live-album Live Without Sequencers, which was initially released in 1994/1995 via the band's leader's own label. Actually, we can 'enjoy' one hour of 'traditional' Goth-Rock songs, mostly lasting for three to four minutes, with everything that did characterise the scene two decades ago. It's quite darkened and obscure for sure, including electronic influences (especially the drum programming, evidently, causes that feeling), and it might not be that imbecile to refer to the likes of Whispers In The Shadow, Umbra Et Imago, Sisters Of Mercy, The Cure, Canaan and so on, and so on. But actually, it goes further than all this, and not either. Sad Parade are such a band that would please (and which still does) an audience that adores the punky attitude of electronic Cold Wave / Dark Wave / Goth Rock / New Wave / Goth-Punk à la the eighties, okay, with all clichés from that era, yet with all magic elements as well. And since we are all children of that era, and for this release gets distributed by Frozen Light, it might not be ignored at all.
Anyway, this material is based on a mixture of cool vocal lines (indeed they are), floating keyboard melodies, electronic elements (especially the percussions come with an electronized flair), Goth-Rock guitar melodies, spacy elements, and a truly convinced energy above all. So, imagine a mixture of Sisters Of Mercy, Printed At Bismarck's Death, Silke Bischoff, Umbra Et Imago, Kirlian Camera and Love Like Blood, and you might have a (distant) idea of what this material stands for. But if you think that little punky and electronic New Wave / Gothic Rock might be an interesting idea, you will for sure appreciate this compilation!
Both demos are actually pretty satisfying when talking about the production qualities, but the live additions too aren't that bad at all when referring to the sound. And the performance too is quite impressive. I have seen lots of Goth-Rock bands when I was (much) younger (oh, those lovely early nineties), but I am really impressed by the result this band creates / created – yet once again, this effort too dates from the first half of the nineties, so I might be prejudiced??? But in any case, I just have to add that melancholy might be an aspect to pay attention to this compilation.