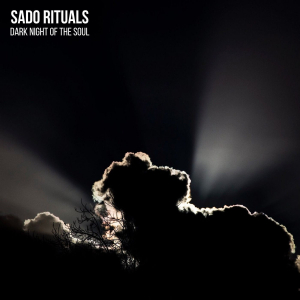 A short one, yet coming from my heart…
I won't go too deep into the label and the project this time. The label is one of the most impressive ones within the worldwide Drone / Noise / Ritual Ambient scene lately (enter this label's name in the 'Search'-tab to find out more reviews, if interested), and the project is the main outfit by the label-owner; a very kind person who deserves my respect and support. No further comment this time…
Dark Night Of The Soul is a piece created in March 2023; a one-piece effort that clocks more than forty-four minutes. This 'track' is one huge wall of monotonous yet oppressive Drone Noise Ambience, if you want to, and I quote: 'recorded in trance-inducing state after two weeks of sleep deprivation and depression caused by medicines overdose'. The Polish entity behind both the label and this project indeed suffers from certain health issues (of course I won't go deeper into the matter), but a huge dose of medicinal products and a lack of sleep can cause specific hallucinations or delusions.
That manic (a word that does not differ that much from 'maniacal', and that is not some silly coincidence) state of mind can get canalised through – or translated into – a positive vibe. I mean, what if such attitude gets translated into an aural format. Well, that's exactly what Przemysław 'Sadox' is able to, to transform these negative, uncomfortable feelings into a sonic masterwork. And yes, I did mention 'master'work.
Dark Night Of The Soul refashions quite repetitive and monotonous (monolithic too starts with the very same prefix; another not-that-coincidental happening!) drones into, or towards, an extremely tight, suffocant sonore machinery, mirroring and pulsating the whole of the time, fading away and resurrecting over and over again. It's a chilling experience, a morbid trip into (and towards) one's Inner Eye, exploring mental dimensions you won't be confronted with, yet that, at the very same time, are divulging and reassuring.
Droning industrialisation and ambient noise-scapery (a neologism that exists as from now on!) reappear the whole of the time, time after time, but since it fades away, resurrects, fades away once more, before reviving once again, Dark Night Of The Soul makes sure that its title, 'dark night of the soul', (re)assures its deepest meaning. This material is a pure embodiment of such moment of a glimpse (or period) of spirit noir, of a reflection of bereavement, of a confrontation with inner discomfort, unease and deprivation. Drone, Ambient Noise Wall, Black Ambient and fragments of Death Industrial, gathered into one tense package of sonic asphyxiation...
Sad, negative moments often lead to majestic creativity. As I wanted to keep this review short and concise, I can easily conclude with: Sado Rituals did offer a very personal (almost intimate), yet probably (read: surely) recognizable, soundtrack for moments of inner confusion and distress; states of mind we're all confronted with. The result, for sure, works therapeutic…
https://gatesofhypnos.bandcamp.com/album/dark-night-of-the-soul
https://sadorituals.bandcamp.com/album/dark-night-of-the-soul
https://www.concreteweb.be/reviews/carrion-sado-rituals
https://www.concreteweb.be/reviews/sado-rituals-mass-graven-image
https://www.concreteweb.be/reviews/gold-sado-rituals