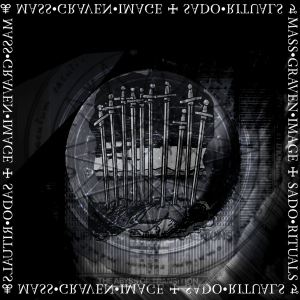 Album Title:
Sado Rituals / Mass Graven Image
Release Date:
Thursday, December 29, 2022
Short introduction on both projects, the label, and the release itself.
Sado Rituals: project by Gates Of Hypnos president P. 'Sadox' K., one of the most productive yet also most interesting Noise-outfits from Poland in history.
Mass Graven Image: Texan-based Death Industrial / Ambient / Noise project with a limited yet highly interesting effort on releases.
Gates Of Hypnos: well, what can I say. It's more than its philosophy; it's also about quality, support, friendship and dedication.
And hey, here's another excellent split release, with those two projects contributing with a composition that characterizes their existence; and in some way it covers their mutual 'being' at the very same time. A digital release with nice cover-artwork, consisting of two tracks (one by each musician involved), clocking almost half an hour…
This untitled split starts with Prelude To Atrocity (14:30) by Sado Rituals. It's a mostly hypnotic pièce d'art sonore, because of its repetitive yet somehow monolithic execution. With a rough, industrialized soundscape as basement, multi-layered and Ambiental, Prelude To Atrocity drones on and on, covering the experience in an opaque veil of mesmerizing elegance. It crackles and shatters the whole of the time, yet it does retain a melodious aspect too in its spine.
Because of the monotone approach, one might call it boring. Wrong! Prelude To Atrocity is an adventurous piece of Ambient Noise Wall, exciting and defying, as well as tantalizing and captivating. In a sense, it's even intoxicating and addictive, wishing this sinister soundwave would not come to an end.
The Mass Graven Image composition is called Crystalline Serpentium and lasts for 14:44 minutes. In the vein of its young yet rich roster, one might expect an amalgam of shrieking noises, mechanical sounds and metallic electronics. The contorted noisescapes of Power Industrial and Ritual Noise are of an experimental nature, wrenched and wretched, filled with distortion, escapism, contradiction and revulsion; and then again, engirded by structural composition and equilibrium too.
Additional samples are used in a modest yet undeniable important amount, consolidating the vicious, ruthless school of thought. Harsh and alienated Noise and dissonant experiments, leaving no room for peacefulness…
Check out both projects, and for sure this label, folks…
https://gatesofhypnos.bandcamp.com/album/sado-rituals-mass-graven-image
https://www.concreteweb.be/reviews/mass-graven-image
https://www.concreteweb.be/reviews/gold-sado-rituals
https://www.concreteweb.be/reviews/carrion-sado-rituals