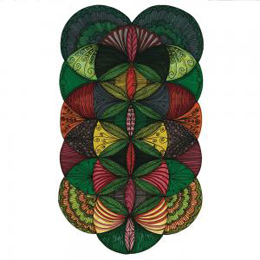 Svart Records do surprise me time after time. This time it goes for Sammal's self-called album, a nine-tracker with a sixties-attitude.
The album, completely sung in the band's native tongue (Finnish), opens with Puolikuu, which combines Rock and Metal elements à la Purple, Floyd, Zeppelin, Doors, Lizzy, Sabbath, Camel and Heep (consider it a kind of quiz: what's the prequel to each moniker (with one exception)?...), yet with that icy Suomian spirit… Next comes Esox Lucius, starting somewhat goody-goody, then slowly turning into quasi-poppish Folk-alike shamanism with, in some weird way, an attitude comparable to the likes of Orishas or Electric Hippies (bands my beloved wife is rather wild of; that's why I do 'recognize' this shit). Oink? Jäniksen Vuoksi, the third track, is an instrumental one, and mostly progressive. Then comes Kaikki Kortit, again combining elements from several Sixties / Seventies Prog / Doom / Psych / Rock / … bands, with a trippy atmosphere, and so it goes on…
Sammal brings a fine, mainly vintage-focused album but, I'm afraid it comes way too late. The progressive approach is updated but, unfortunately, I am afraid that, besides in their home country, they will not really be remembered at all.