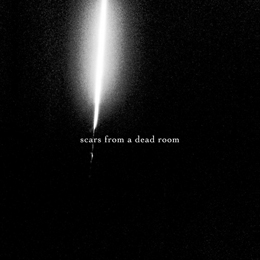 Scars From A Dead Room are a mysterious Canadian project that release their debut on the equally mysterious but unique French label Distant Voices. The latter are known for their mostly original releases, and then I am talking about the physical copy of each release. Once again, this album comes in an extremely limited edition; this time it concerns 69 copies only (with no repressing) (good news, however, for this specific album will be available too on cassette, via BLWBCK). The handmade album includes inserted 210-g paper and the title on the 'cover' is handwritten.
This untitled album consists of eight tracks (which is different from the 'usual' Distant Voices-material) with a total running time of thirty eight minutes. The concept lies 'between philosophical thought and feral instinct' (cf. the bio), an approach not that weird to understand if you let Scars From A Dead Room's post-modern Black Metal penetrate your mind.
What does this mean? Well, opening track Calvaire gives a first glimpse. This pièce d'Art Obscure isn't quite unusual for being Black Metal of a most droning kind. In years I haven't experienced such oppressive and suffocative atmosphere as introduction. Expiare is a weird piece too, so it takes until Mes Yeux S'Ouvrant Sur L'Infini (the longest track, and the only one that clocks over ten minutes) before turning into 'normality'. Damn, this isn't but an empty boutade, for 'normality' does not exist right here (which makes me happy). I just mean that this song comes closer to a more 'evident' form of slow-paced yet ultra-abyssal Black Metal with a fabulous Post-Black attitude. The Drone-details are less pronounced, but not absent either (happy once again…), but this can rather be classified as a Post-Suicidal / Funeral / Atmospheric Black Epic than the opener. …I know this makes no sense, but please try me and give a more accurate description of this kind of majestic creations from the Dark Side. If you call your project Scars From A Dead Room, then would you expect classic tradition? I thought so, neither do I.
What to think about the Today Is The Day-cover Temple Of The Morning Star (taken from their Relapse-album with the very same title), integer and semi-acoustic, yet oh so beautifully performed. Exhume is a faster Black assault, enormously powerful and heavy, which starts with a grandiose (though very short) introduction, based on false violin lines. The better part of the track brings dissonant and rhythmic speed-up nastiness with purest emotions of despair and sadness, the bleakest way. The first half of Il Retourne A La Terre is very melancholic and emotional in its melodies, and the most so-called Suicidal Black-piece on the Scars From A Dead Room-album. It comes, as from half of the composition, with a sample from, I guess, a movie, but honestly, I have no idea which one. Yet again, it fits. Unique to notice how natural it seems to combine such spoken-words-only sample within this album's concept. Inhume is, just like Exhume, a rather 'traditional' (Post) Black creation with a hypnotic, Sludge-injected finale. And final song Tue Le Père. Tue-Le is an instrumental outro based on acoustic guitars and distant keyboard lines, with some fantasy definable as black-gazed post-rock ambience.
A word, finally, about the production: top! Raw and edgy, bleak and lacking of clinically polished modernism. That's the way such epic must sound.
So, in conclusion, I have to mention, once again, that Distant Voices need to be honoured for releasing such magisterial opus. I think it's truly sad that the editions are so limited, for the whole human population must have the chance to enjoy such fabulous material. At the other hand, it is nothing but an honour to make part of the limited audience that is able to benefit this excellence pur sang.