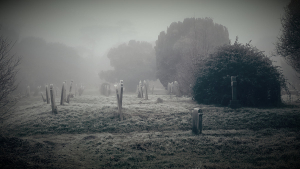 Hailing from Silesia, Poland, Severe Storm is an outfit by Kolan, whom you might know from bands and projects like Antisemitex, Odour Of Death or Defenders Of Europe, amongst some others. Kolan started this project at the end of last century, but it took until 2010 before Severe Storm released its first official studio album (Follow The Paths Of Darkness…, Darker Than Black Records & Ancient Order Productions). Before, there were some demos too, by the way, which were compiled in 2006 by Kaliber 8.8 Production. In 2012, Lower Silesian Stronghold in conspiracy with Werewolf Promotion released a split with the sweeties of Slavecrushing Tyrant, and then… silence.
But do not fear, proud brothers and sisters. In 2018 and 2019, Kolan recorded some new material (at the Bunker Studio), and once again in a partnership with Poland's finest Lower Silesian Stronghold, this material gets released in both digital and physical version. When talking about the latter: it's a limited digipack (300 copies), three-folded, which include the clear and convincing poetic messages (which were, by the way, written by Odour Of Death's Radek 'R.Hate' (this time known as R.) in English), and which comes with (beautiful) misty black-and-white artwork from places of cheer and joy.
The Awakening, which has a total running time of about forty-two minutes, starts with a short intro which is called, and believe it or not, Intro indeed. It is a fine piece of floating, dreamy and mesmerizing elegance, ideal as an omen for what's next to come.
And that what is next to come is not that pretty. War and doom, hatred and vengeance, intolerance and supremacy! The Awakening stands for hateful and raw, towing Black Metal with quite some variety in tempo. That goes for about all hymns on the album, which interact in between fast and energetic excerpts and slower passages. And damn yeah, but it does include blasting eruptions as well, and in contradiction to it, also several doomed moments of total deceleration. And you know, it lacks exaggeration, which is a very grandiose thing to notice, for the continuous changes in speed sound so natural.
Besides, all tracks have some interesting breaks too, though subtly executed. No, (luckily) it is not 'progressive' at all, though it might add a modest 'Post' attitude somehow. The song structures include a certain interesting touch of melody and epicism, without balancing towards any folky basement. Heroism, paganism and blasphemy rather cover the content. And in the very same vein, there is such huge timelessness going on. Of course, there are lots of references to the Old School, if you want, with a prominent Nineties approach for sure. Especially the vocals and guitar sound refer to the glory of the so-called Second Wave trend. But Severe Storm exceed the limitations of the Nordic scene, for they do add that warlike attitude reminiscent of the North-Eastern European sound.
The production is more than satisfying, I think. Here too, a link with the Nineties would not be that bizarre (at all). It's raw, rusty, barb-wired and unpolished, strengthening the malignant epistles. The guitar sound buzzes and scrubs, without losing itself in imbecile grotesquery. And it is nice to notice that the rhythm section has been mixed with delicacy and tenderness. The drum patterns batter and overwhelm, and the whole rhythm string section (rhythm guitars + basses) ennoble the guitar leads and tremolo melodies with punctuality and apprehension. The vocals, finally, are raspy, sulphurous and venomous, and not too much looking for (unnecessary) attention.
It is quite easy to conclude with: highly recommended if you like mostly fast, pushing, merciless and fierce Melodic / Epic Black Metal with a message!
http://www.metalshop.cba.pl/index.php?id_product=6289&controller=product&id_lang=5
https://severestorm.bandcamp.com/releases
https://hassweg-prod.com/eshop/en/lower-silesian-stronghold-releases/8384-severe-storm-the-awakening.html
https://werewolf-webshop.pl/product/severe-storm-%E2%80%8E-the-awakening
https://www.concreteweb.be/reviews/odour-death