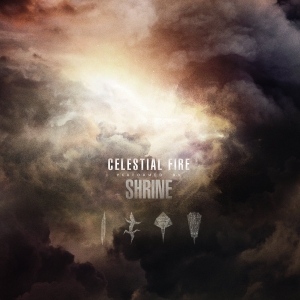 Release Date:
Friday, December 21, 2018
The story continues… After 2016's Ordeal 26.04.86 (Cyclic Law), the fictional story based on Tomb Raider III, goes on with Celestial Fire. A meteorite did crash on the ancient / former tropical lands of what is now known as Antarctica. The ancient Polynesians who discovered the rock worshipped it as a deity, yet since their new-borns started mutating, they left these place, yet not before sealing the ancient meteorite into a cave, a dungeon, locked by four artefacts used as key. Many years later, those objects were found back and the meteorite was unlocked again. Here starts another quest, an investigation on genetics and evolution of the human kind on Mater Terra, and abroad.
Celestial Fire is a fifty-minute adventure, divided into six chapters. The compact disc appears in a six-panel digipack edition of 300 copies (sold out???) with artwork by Church Of Ra's Dehn Sora (the list of bands and projects he created the artwork for is endless, so I'll name just a few: Blut Aus Nord, Yeruselem, Jarboe, Amenra, Nordvargr and many more, besides his own projects). The digital version is still available via both the project's as well as the label's Bandcamp pages.
What Hungarian sonic artist Hristo Gospodinov aka Shrine brings with this new album goes organically further where Ordeal 26.04.86 came to an end. Still the fundaments are based on Dark Ambient structures, with doomed, oppressive and bleak melodies as basement. Several layers of obscure synth-driven ambience create a multi-disciplined sonic dimension of floating and drifting soundwaves. But there is more, for the whole gets injected by different elements, like field recordings and found sounds, elements from Dark Drone and Post Industrial, and that excellent equilibrium in between organic instrumentation and machinal, processed stuff. On top of it, Shrine make use of some drum beat patterns and sampling, as well as wretched voices (cf. opener Infada Stone).
The six lengthy compositions (lasting in between five and eleven minutes) are, despite the natural relationship and coherence in between them, quite varying and differing, and within each piece there is a lot to dissect as well. This constant evolution and variety arouses, for the result shows new surprises time after time. Besides, you are permanently attracted, triggered to 'undergo', to 'submerge to' this aural adventure. It is remarkable how natural it seems to combine the organic waves of sound with the post-industrialised and electronic noises and intriguing samples / field recordings. And no, the result is not an artificially exaggerated mish-mash of sonic expression, yet rather a bewitching, mesmerizing, even addictive form of Aural Art. Sometimes you have those dreamlike, hypnotic waves of melody, then again you'll experience that ominous, scarifying sphere of fear, anxiety, discomfort. As an aural journey, this album truly accompanies you through different dimensions of the mind.
Celestial Fire has something extra-terrestrial, I think, something unworldly, astral, unphysical, yet without being 'spacy' or 'co(s)mic'. Especially the interesting, though breath-taking atmosphere is down-earthed, referring to both post-dimensional escapism and earthly sobriety. And hey, 'celestial', as in the title, does cover the sound and atmosphere for sure.
Or in short: Cyclic Law once again shows their excellent taste in open-minded Ambient Music by means of this new Shrine recording. The label is one of my favourite ones for sure for both their open vision and their splendid releases. Shrine's Celestial Fire is another example of this statement. Recommended it is!