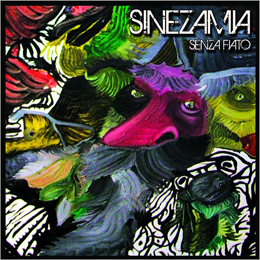 Occasionally, some really great musical gems come out of the dark fogs of Northern Italy, and his band from Mantova certainly counts in that category. Well, actually the city (with some 50,000 inhabitants) is an exception in the usually very industrial north of Italy, as being surrounded by three lakes and having a rich and beautiful historical center (the town dating back to the 6th century!) rather makes it a touristic attraction.
Formed in May 2004 by musicians of which today only singer Marco Grazzi and keyboardist Carlo Enrico Scaletta remain (the rest of the current line-up consisting of guitarist Federico Bonazoli, bassist/ backing singer Marco Baccari, and drummer Stefano Morbini), the band swiftly inserted itself in the local Dark Rock/ New Wave niche with the release of a demo, after which came the first live appearances. Following some line-up changes, the band gained more stability in 2006, both in the line-up and musical direction (which by then had gone to a Dark Wave/ Rock), and so started working towards a debut official release, which came in early 2007 with the 7-track EP Fronde. As the EP was exported to other Italian provinces, the band became more than just a local thing, and with British journalist Mick Mercer including the band in his book Music To Die For, the band even gained some international recognition, albeit still on a relatively low level. Still, the press started noticing the band, which resulted in a series of positive reviews and interviews, and an Italian touring schedule which lasted well into 2008.
With an increasing fanbase, the band was looking forward toward new writing and recording sessions, and life was starting to look like a pretty picture...but just then a crack came in the canvas, as the rhythm section tore itself away from the project. The search for new members evidently delayed the process, and it wasn't until early 2009 that the band was ready to enter the studio again. By May the quintet was out on the stages again, as they started promoting their second, 4-track, EP Sacralià. This time, the EP not only made it to even more Italian provinces, but also outside Italy, and sold out its first pressing in only a couple of months. Several excellent reviews, interviews in printed press and on the radio (on which also came numerous airplays of the band's music), and a constant flow of gigs, allowed the band to step outside its own provincial boundaries, and into venues of some of the other Italian cities. In May of 2011 the band released a new single entitled "Ombra", a sorts of preview of what the fans could expect from the band's debut full-length La Fuga, which is eventually released on March 9, 2012. Weirdly enough, the band hardly did any gigs that year (only a handful until the end of June), and...info lacking past that moment in time...I can only guess that either the members' personal lives were swamped with other activities, or that another change occurred in the line-up. At any rate, the band's live status was re-activated in late January, and since then the quintet's been playing gigs on a regular basis, with the new single's release date as last of 16 shows that year (and, believe me, that was the band's top year as far as done concerts are concerned). Part of the shows however (in fact 3 of 'em) were done in a band competition to gain a spot at the Czech festival Master Of Rock, where the band played on July 13 as the only one singing in Italian, and were given the chance to share the stage with the likes of The Exploited, Lordi, The 69 Eyes, Dragonforce, and others. For the band, this was obviously one of the most important highlights in their career thus far!
But that brings me back to current-day affairs, and the two-song single at hand, which I have been turning numerous times since starting this review, and which I still haven't grown bored of! Not that surprising, when you'll check out the songs yourself. In order to do so, surf to the band's page at (www.) facebook.com/sinezamia (where in the "Music" section you'll get redirected to the single's Bandcamp page). Expect songs with some complexity coming from the keyboard/ synth player in the first place, for it's his atmospheric undercurrent which gives the music an overall darkness, and the synths on top which bring in an eerie aspect of possible danger. Of course, the guitarist isn't second-rate you know! In fact, he puts in some quite flashing solo and lead parts, battling with the synth lines while at the same time being perfectly in since. No...I put that the wrong way...I should've said that they complement each other into an exciting whole in which neither can be missed. On top, the singer comes with a nicely trained clear voice, with which the lyrics are pronounced to perfection. In fact, I guess I could possibly write 'em out if I put some effort into it (and my Italian ain't even that strong, you know), but of course I don't need to, as the band posted most of its lyrics on their site (under "testi").
To listen to all of the band's previous songs (including a "live bootleg", as well as the band's demos and outtakes), check the "audio" section on the band's own webspace (www.) sinezamia.it! Personally, I regrettably have no time to get into that, as I still have some...what is it now?...35 albums awaiting my appraisal?...and the editor-in-chief just let me know that he's already got a new shipment for me. Ay...the life of a music journalist can be so...so wonderful sometimes! Because I dó get in contact with a whole lot of music which I otherwize might never come across, you know. And having come across Sinezamia, I can only say I hope they keep on doin' their stuff, and won't let us wait too long for a new full-length, which I will certainly enjoy as much as I have this single!