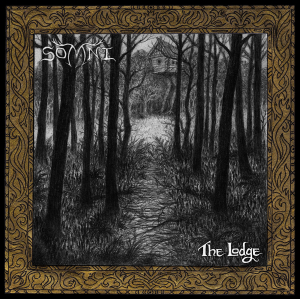 [I promised a (female) friend of mine from Oceanic 'soil' to write down my thoughts on this release; due to circumstances I haven't had the time / energy yet, but since I try to keep up my promises, at least to those people that deserve this… Better somewhat later than never…]
Somni is an outfit by Ryan 'Irritator' Shaw, a guy from New Zealand who also runs the project Unimpressed (known from the EP Dead Omnipotence from 2020, for those who are aware…). He recently started this new outfit, Somni, to explore other sonic territories, accompanied by his partner Jessica 'Chthonia'. The outcome called The Lodge turns out to be a six-track experience, which is 'drawn from visions, dreams and memories of the interior'. This material was created throughout many years (as from 2015, apparently), and the self-released result lasts for thirty-six minutes.
As sort of mentioned, almost everything was done by Ryan, who also took care of the visual artwork, by the way. And that cover art is truly stunning: mysterious, ominous, autumnal, cold, yet at the same time teasing and tantalizing.
The audible result too teases and tantalizes, for it draws its inspiration and execution out of different (though related) sources. There is a lot of variation, even-though the concept focuses on cohesion. The Lodge opens with the short track The Door Behind The Wall, a melancholic and desolate piece based on piano especially. The slow touch of the piano-like keys, delicate and cautious, even fragile, comes with an illuminating atmosphere, being accompanied by gentle percussion-patterns and additional sounds and instrumentation (strings and bells and so) – but modest and parsimonious in essence.
I was enthusiastically surprised when I listened to the second composition for the very first time (and I still am after several listens). Redwalk opens with an eerie intro and gets joined quite soon by mesmerizing spoken words and whispers of the intoxicating, and why not, seductive kind. Of course I knew that the guy behind this project, Ryan, was the partner of Jessica Luna, but I didn't know she would be part of it. Her enchanting voice and the ritualistic, tribal-laden instrumentation (like those shamanistic drums) mingle perfectly with the haunting synth-lines, resulting in an oppressive, little claustrophobic summoning.
Loft With No Ladder continuous the piano-laden journey that characterized the opening sequence of The Lodge, The Door Behind The Wall, but it sounds less dreary and more adventurous, like Contemporary Classical being mixed with an arousing hint of experimentalism and intrepidity. It contains more sonic layers that the opening track, getting veiled in a fog of drama and suspense. The rain-like noises strengthen the downhearted atmosphere.
House On Long Legs (one of the two compositions that clock more than eight minutes, and deeply fitting to the cover artwork) opens investigational, for it assembles field recordings, floaty soundscapes and found noises. After a while, things evolve into a dreamlike wave, yet still being injected by supportive strings and resonances. After five minutes, however, this approach fluidly evolves into a jazzy concept, with those typifying drum-rolls and groovy guitars. It shows another angle of Somni's open-minded palette.
Once again strongly different in approach, yet related in concept and atmosphere, is The House At The Bottom Of The Sea; also a lengthy piece. Initially it shows a dungeon-styled technique with a doomed temper. At the same time, this hymn is the most 'cinematic' in achievement, and despite its slowly-moving, airless and lightless orientation, there is a permanently adjacent / forthcoming thrill. Step by step, it grows and expands, maintaining that dense, dim revolution.
The Lodge closes with One Hundred And One Years, which sort of continues the Jazz-laden basement of House On Long Legs. It surely represents a Badalamenti-based mood; One Hundred And One Years could have been part of the soundtrack for Twin Peaks and the likes, I think. This time, the Jazz-oriented instrumentation and performance (strings, synths and percussions) get enriched by the almost fairylike vocals of Jessica; and even-though her voice does not sound like Julie Cruise's, this song could be part of a sound-score by the aforementioned connection with a Lynchian story (cf. the reference to the recently deceased composer Angelo Badalamenti). Actually, the title of this album too lifts up a piece of the veil, does it not?!...
Emotions and memories through dreamlike shadowworlds...
https://lodge-of-somni.bandcamp.com/album/the-lodge
https://www.concreteweb.be/reviews/chthonia