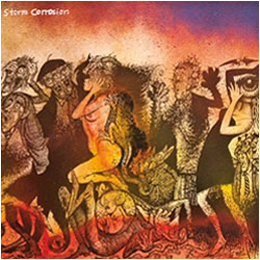 This is the long awaited and speculated upon collaboration between Opeth guitarist Michael Akerfeldt and Porcupine Tree frontman and solo artist Steven Wilson, and considering the history, it hàs been a long time coming.
You see, Akerfeldt first became aware of Wilson in the mid-'90s, when his best friend played him the Porkupine Tree album The Sky Moves Sideways, and immediately idolized him. He was however hesitant at making contact, and so he was pleasantly surprised when Wilson (in fact a lover of Extreme Metal), after listening to Opeth's Still Life album given him by a French music journalist, e-mailed him about it. The two ended up meeting each other in a London restaurant where they became friends, and at which point Akerfeldt asked Wilson to produce Opeth's upcoming album Blackwater Park. So he did, and this started a longstanding collaboration, as Wilson went on to also produce the albums Deliverance and Damnation, and mixed the Heritage album. In 2003, Porcupine Tree and Opeth co-headlined a US during Summer, and in 2005 Akerfeldt put down some guitar licks and vocals to Porcupine Tree's 8th album Deadwing.
There have been talks about the two doin' a project together from the Blackwater Park sessions, and news about the two actually getting together on it was announced somewhere in 2006...but it was only in March 2010 that the duo actually started to get together for short writing sessions. Originally, former Dream Theater drummer Mike Portnoy was to be involved in the project as well, but Akerfeldt and Wilson realized that the material would actually want very little drums, so eventually excluded him. What small bits of drum and percussion (only like on 15-20% of the material) would eventually be played by Wilson's bandmate Gavin Harrison. In early 2011, the project's name was announced to be Storm Corrosion. With added contributions from Ben Castle on woodwinds, the London Session Orchestra (strings), and Grand Piano by Mat Collis, Akerfeldt concentrated on guitars, with Wilson focusing on keyboards and song arrangements.
The material (6 tracks for an album length of 48 minutes) is a step away from what we're used from either of these two fine musicians, as they decided to focus on their more esoteric tastes in music, seeking inspiration in such bands as Comus, Popol Vuh, Univers Zero, Steve Reich, David Crosby, Talk Talk, and Scott Walker (info, thus far, taken from the band's page at Wikipedia). Of course, there's still Wilson's very recognizable vocal signature, and there IS a "progressive" feel in the material, as well as an almost Ambient touch. And, is that any wonder, considering whom we're dealing with? The surprise comes with added orchestral arrangements, adding to the overall epic atmosphere.
Ach...this is a wonderful...nay, gréat album, which I'm sure most fans of the player's individual bands (and solo project) have picked up quite some time ago already! It is said (on the project's own website (www.) stormcorrosion.com's home page) that people into Wilson's most recent solo album Grace From Drowning and Opeth's Heritage will probably understand the Storm Corrosion material as a natural progression. Just in case you're still to make your acquaintance with this project, check the "Media" section on said website for the video of the album opening "Drag Ropes" (keeping in mind that it's the albums vocally most elaborate track, it still gives the listener a nice insight into the music). For further listening, look up the album's page on Amazon.com (only samples there, but that will be enough to convince anyone!). I'll just close this review by nominating the album into my 2012 year-lists, and by stating that it is not only available as a normal CD, but also in a Blu-Ray Special Edition, and as Collector's Edition double LP (that's vinyl, dudes!) set.