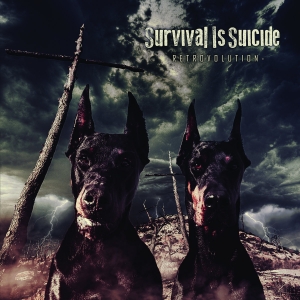 Hailing from the beautiful city of Barcelona, you know, the capital city within the independent new country of Catalonia (no further comment…), Survival Is Suicide are a duo that started playing together under this name more than a decade ago. In 2011 Epojè (drums) and Zaratozom (vocals, bass, keyboards) released their debut album, …Just Like Spiders Eat Flies, which was mixed and mastered, by the way, by no one else but Javi Félez. Then things went silent, but the duo now return with their sophomore album, Retrovolution. Once again self-released, but heavily supported and distributed by Blood Fire Death (also from Barcelona), Retrovolution was created once again with assistance of Javi at his Moontower Studio (think: Graveyard, Nominon, Rotheads, Barbarian Swords, Insepulto and many more), as well as the Underground Lab with Isaac Gonzalez.
The seven pieces have a total running time of thirty-seven minutes. They are like a representation of timelessness. I mean, you have both the old school coming to mind, as well as a modern approach being shown. With 'old school', I am referring to the basic structures in the first place. The international Death Metal scene (not one specific one exclusively) from three decades ago comes to mind enormously when dissecting the pieces on this album. Morbid Angel, Macabre, Gorguts and Obliveon, and even Nocturnus, Arcturus, Akercocke or very early Pestilence are like sources of influence, to my opinion. The way of riffing and the bass lines surely breathe the filthiness of the past. The same goes for the drum patterns by Epojè, though these ones are timeless in execution too. With modernism, I am referring to a certain progressive form of the technical play. In a creative way, Zaratozom manages to trespass the limitation of narrow-minded trends. Survival Is Suicide therefor are more than 'another' Death Metal band.
What I like are the few elements that make this band distinctive from 'the average'. I am talking about the grandiose changes in structure and those sudden, yet well-thought breaks occasionally. It might be little confusing from time to time, but it's so organically subtly performed. The addition of keyboards too is a fantastic element – not some would-be experiment or a silly exaggeration, but thought-through for sure. This goes for leading parts (like as in an introduction of a track, or for welcomed intermezzi like Chrysalis), yet as well throughout some compositions on Retrovolution as part of the background support for the Music. It structures some occult atmosphere in certain cases, then again it is like a futuristic view for some post-apocalyptic soundtrack.
Survival Is Suicide are not your 'trusted' Death Metal project for sure. Their eccentric approach is a love-it-or-hate-it thing, asking for some endurance and persistence. Fierce Old School Death Metal tracks in contrast with experimental compositions, it's not a trite and predictable collection of songs that make this album. Several listens permanently reveal new elements, subtly hidden, and subtly manifesting these intelligent details and aspects. Retrovolution turns out to be an adventurous album which at least deserves a closer examination.