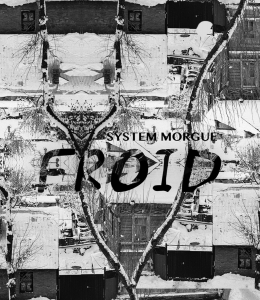 Release Date:
Sunday, December 31, 2017
A short review, though dealing with a masterly executed album…
I do follow System Morgue for a decade or more, because I do consider this project (and yes, that isn't but a personal – and therefor subjective – statement, yet still…) as one of the most interesting Drone / Ambient ones from Russian (or even international) soil. This project around St. Petersburg born musician Peter L. did release many hands full of recordings, first under the System Morgue moniker, and as from half of 2018 under the Accasari banner. And each time Peter L. knows to impress me (once again, this is a personal point of view, but hey, I am writing this review).
Anyway, the fantastic Moscow-based label Frozen Light took care of the album Froid, and even though it was released more than two years ago, it is my pleasure to write down some of my thoughts on this release. Yes, of course there's a digital version available, but the physical one is at least as attractive as the sonic part of the game. The compact disc comes in a so-called card-board sleeve, being limited to 300 copies. It does not include much information, yet then again it does come with sober yet cool artwork (based on photography especially), courtesy of Peter himself, and Frozen Light visual artist and devotee Olga Matveeva.
Froid (which is French for 'cold' or 'frigid'; it's not the first time at all that Peter comes up with a title in French) is a five-tracker, which clocks almost one hour (in between five and twenty minutes each). Once again, you might expect a rich, fruitful pallet of drones and ambience, based on electric string instrumentation in the first place. The compositions are like long-stretched waves of replete layers, consisting of mid-tempo structures and hypnotizing melodies. A unique element is the fine equilibrium in between orchestral distortion, dreamlike delicacy, down-tuned melancholy and post-cosmic (indeed, it exists as from now on) reversion. All epics continuously grow and shrivel, climbing up and fade away, evolve and revert.
The huge variety (and 'huge variety' is not an exaggeration at all!) goes not only for the melodies and structural foundation. A fine aspect is the modest and subtle use of drums / percussion (programmed, I think, though it might be performed life; I am not sure, for which I do apologize hereby). They are used purely minimalistic and plain, but somehow it does enrich the compositions when used. What's more, it lifts the whole up to a cinematic level.
Sound-wise, Froid is an expression of professionalism and craftsmanship. Since things permanently evolve and grow, being enriched time after time with interesting ideas, the mix does need a balance that involves all layers. And that mix indeed pays attention to all instruments, all soundscapes and all levels of noise.
A monument of subtlety, atmosphere and adventure…
https://frozenlightlabel.bandcamp.com/album/froid