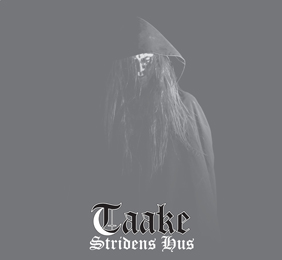 I am always unhappily happy when Taake release a new album. I follow this project as from the release of Nattestid…, and each single album that did follow that magnificent debut was at least worth killing for. Kill! (it's Kristmass-time, so I can't help myself…)
Hoest, the sole guy behind this project, was assisted for sessional duties by members of his live band (with members of e.g. Helheim and Gorgoroth), and the studio duties were handled by Bjørnar E. Nilsen (who also worked with the likes of Dominanz, Vulture Industries, Helheim, Byfrost, Dead To This World a.m.m.) at the conclave & Earshot Studio. This sixth album has a total running time of forty three minutes (seven titles).
And hail to the Horned One of Aural Art (hey, I should start a new religion since I found out an appropriate god…), but as from Gamle Norig on, it's evident that Taake haven't lost it. Though, be careful. The better part of the album is undoubtedly Taake. That means grim and epic, melodic and oppressive Nordic-styled Black Metal. but Hoest introduces some elements that are rather new for Taake's approach (don't expect too much; it is not that Taake are now playing something else). No, don't worry, they haven't turned progressive or poppy. The known stuff, first of all, has to do with the rolling bass lines, the repetitive drum patterns, the winterish guitar sound, and the cold, raspy black-grunts by the band leader himself. Also the known song structures and the raw production are clearly courtesy of Taake. But some things, as said before, are rather new, such as the quasi-bathorian harmony choirs (though extremely limited, like in Det Fins En Prins), some neo-punkish and / or thrash'n'rolling injections (the instrumental piece En Sang Til Sand Om Ildebrann is a quite remarkable piece with different metallic-musical angles), or full-blast thrashing malignancy. However, every single moment breathes the purest essence of Taake's crafted and grotesque superiority. There are several levels, and with each listen you'll find some new details that strengthen this project's excellence.
Stridens Hus might be the most innovative Taake-album to date, absolutely courtesy of Hoest's blackened mind, and once again it's a winner in every single aspect. Taake are top – always been, and still now! No tricks, no gimmicks, just pure Nordic Black Superiority!