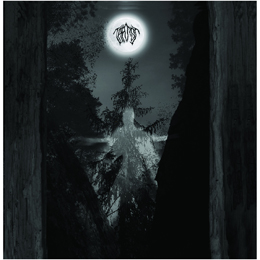 On October 11th 2014's update on Concreteweb, you could read the review I did for Taatsi's demo-tape Season Of Sacrifice. It was an omen for the upcoming full length, and it left me satisfied, and craving for more. I was not the only one, because when Forever Plagued heard this material, originally digitally released by Taatsi in January 2014, they signed them with the idea to have an album released. …which is the case as from now on…
Amidst The Trees brings material modestly comparable to the demonstrational stuff from Season Of Sacrifice. The duo created just over half an hour of mainly slow- to mid-tempo, tradition-based and obscure Black Metal with a clear Scandinavian identity when it comes to the depressively grim atmosphere. Because of the addition of aural sepulchral spheres and symphonic passages (i.e. the use of keyboards), some parts remind me, once again, to early Gehenna, with hints of early Manes, Ancient and Dimmu Borgir (cf. A Moonlight Journey Through The Midwinter Forest a.o.). About each single piece on Amidst The Trees has a story to tell, but some are truly outstanding. Gateways To The North, for example, with its slowly slugging tempo, those fabulous hypnotic leads, and that excellent drum pattern towards the end. And what to think about the breath-taking instrumental classic-to-be song Funeral March Of Hintriikki Peltoniemi… Or Beneath The Hills They Sing, which might be the most victorious, epic battle-song on the album.
Taatsi are an act you cannot, may not deny. What these guys have created with their first full album (though it clocks just over half an hour) is mostly fulfilling. After the demo I was anxious, but my expectations have become more intense than hoped for.