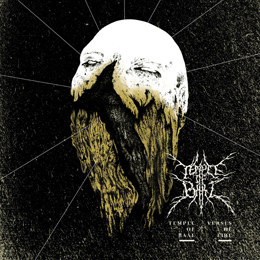 Release Date:
Tuesday, October 29, 2013
I never hided my appreciation for the French Black / Death Metal scene, and one of the (many) reasons is called Temple Of Baal. For more than a decade, they do please my aural organs with hateful and unholy blasphemy. And still via the excellent Agonia-label, the band (Amduscias, Arkdaemon and Skvm; in mean time joined by Cruxifiction's Saroth) returns with the fourth full length, which lasts for about an hour. The whole has been recorded, mixed and mastered at the Hybreed Studios with Andrew Guillotin – think: Glorior Belli, Monolithe, Bran Barr, Eibon, Carnal Lust a.o.
In comparison to the past, Verses Of Fire is much stronger, nasty and intense than ever before. And since the past was extremely strong, nasty and intense, this could mean something. It starts from the very beginning, with To Asteri 418 (in fact, written in Greek as το αστερι 418), which must be one of the most asphyxiating hymns ever. And this hammering approach goes on through majestic compositions like Bloodangel, Arcana Silentium, …; as a matter of fact, I can sum up every single piece on this fabulous album! Verses Of Fire is fast and energetic, blaspheme and violent, but without irritating exaggeration or superfluous extravagance. And another surplus is the balance cohesion-variation. In the past, I sometimes missed a certain variety in between the songs (same tempo, same atmosphere, same general riffing etc.). This time I cannot put my finger on two same-sounding compositions at all. It goes not for the average duration only, with a differentiation from three up to ten minutes. The main tempo, for example, is mercilessly speed-up (mind the percussions that breath fire and sulphur), but with more than just a couple of decelerations; listen for example to the Post-Black oriented Doom passages on Bloodangel or Walls Of Fire.
Temple Of Baal sound, more than ever before, like the ultimate but mostly un-cute bastard child of Marduk, Behemoth, Svartsyn, Vader, Immolation, Antaeus, Morbid Angel and Demonical, and the unique balance of an organic approach and post-industrial sound id beyond superiority! Magisterial!