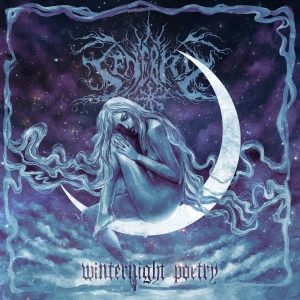 Vladimir 'Wolfir' Prokofiev is a very productive designer and musician. As visual artwork artist, he did create the cover paintings for tens of bands / albums (which I am going to list up), and as musician he worked under different pseudonyms before. But his most active outfit surely is In Tenebriz, which he started in 2005. Throughout the years, In Tenebriz recorded and released more than ten full lengths, many EP and several split-releases, especially during the first half of this decade.
His latest-but-one release (in Autumn 2018 he self-released the digital album Winged) was Winternight Poetry, initially released independently via his Bandcamp page. The seven tracks were written and composed in 2017 by the sole member, Russia's Wolfir, who took care of the (beautiful) artwork too. Shortly after the digital release, 500 physical copies were made (with an eight-page booklet, which includes the lyrics, in his mother tongue, dealing with melancholy, winter, the loss of hope and loneliness), eventually released in a partnership of Symbol Of Domination Productions and More Hate Productions.
The conceptual album has a total running time of almost forty minutes, and brings a slow-paced, floating and transcendental form of Atmospheric Black Metal with an astral approach. The melodic songs are strongly carried by the strings, with duelling tremolo leads and intriguing solos as core. The guitar play is a basic yet essential element to define both this project in general, as well as the album more specifically. But that has nothing to do with the sound quality, for this one pays attention to every single instrumental aspect; but I will come back to this later. As said, the better part is slow-paced, dooming around the whole of the time, which strengthens the dejected attitude. Once in a while, the tempo accelerates, but even then, it is just a mid-tempo-oriented speed that shows up. Not the guitar parts alone characterise this album. Remarkable too are the synths with that specific approach, that specific sound, reminding me a lot of, for example, Lustre and the likes. Half of the time, those xylophone-alike keys are supporting the guitar leads at the background, and many times they play the head-role within this audible motion picture. A third important player is this: the vocals. These ones are grim, deep and undulate. And last but not least, my respect for the whole rhythm section, the total background support. Whether it deals with the mesmerizing synth lines, heavy rhythm guitars, pounding basses or battling drums, this rhythm support is of undeniable importance for the total structure, the covering-as-a-whole of this aural experience. And it is not purely 'in support of'. Tribal percussion, semi-acoustic intermezzi, and so on; there are various additional elements that put their mark on this sonic drama.
The production is of a high level. As mentioned, there are a lot of individual (yet cohesive) instrumental / vocal aspects. But since the equilibrium shows a magnificent mix at the end, all ingredients are of equally-balanced importance. This goes for the acoustic fragments as well as the heavier excerpts, and everything in between. The result is clean and decent, without any form of exaggerated over-production (luckily!), and lacking any irritating background noises. Okay, little more roughness could have intensified the heaviness and the obscurity, but it did not turn out into some poppy result. Fine!
Recommended if you can appreciate stuff à la Lustre, Nebula Orionis, Frozen Oceans, Chiral, Eldamar, Grimirg, Astarot and the likes…