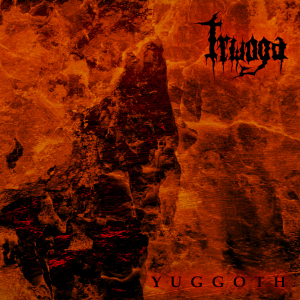 Release Date:
Tuesday, February 2, 2021
Dark Isolationism Ambient… That's how Trwoga does describe their aural art. And who am I to discuss this. When referring to their former effort, Hadefobia, I would describe it as 'haunting and horrific Dark Drone / Black Industrial Ambient', but it does not exactly matter.
Short introduction. This is a one-member project, curated by some Kashnum. This Polish guy is active under this moniker as from half of last decade (he runs some other interesting solo-projects too within genres like Electronic Music, Dungeon / Winter Synth or Cinematic Contemporary Classical Music), recording live and improvising in the studio without the addition of enriching sampling or additionally-sculptured techniques. He takes care of his project's artwork too (which is, by the way, enormously stunning: that black-and-dark-red colour-palette and those curves are deeply captivating – and therefor going extremely well with the sonic basics of this release). This goes, evidently, once more for Yuggoth, the latest Trwoga recording on the underestimated yet truly ingenious label Depressive Black Ambient Records. I did some reviews for this small label in the past, and there are some more in the making; but first things first, and that's this specific release.
Even-though it was released more than a year ago (but who f*ckin' cares?) and with the knowledge that this project's newest album is about to be finished, it deserves all additional promotion. As the title might reveal, Yuggoth is inspired by some works of Mister Lovecraft, and according to the biography, it deals with The Whisperer In Darkness especially. That one was a novella comparable to the Cthulhu Mythos, yet somewhat different as well, for it did introduce a new 'race' of fungi-alike entities, the Mi-Go, coming from a distant planet – bon, Lovecraftian connoisseurs will recognize the theme; to others, I would like to invite you to delve deeper into the magic world of this author. …but that's not the goal of this review…
This material was initially composed during Summer 2020 by Kashnum, 'recorded under the influence of a dark impulse on the synthesizer'. Depressive Black Ambient Records felt the urge to have us all been confronted with the leviathan, so they decided to have it repressed physically and digitally. The result lasts for almost five quarters of an hour (one compositions out of five clocks only six minutes; all others last in between fifteen and twenty minutes), and once again it explores a vast territory of sounds and genres. It does start with a very lengthy track with a Polish title (all of them are in Polish but include the English translation too), Lśniący Trapezoedr; Okno Wszystkich Czasów I Przestrzeni (Shining Trapezohedron; Window On All Of Space And Time). For almost twenty minutes, this track (and no, I am not going to repeat the title) brings something like distant, eerie waves of sound, monotonous yet hypnotic, climbing up, then again fading away. Despite the monotony, there is no boredom, for this piece gets injected by intoxicating space sounds and cosmic-like pulsations. Things grow very mysterious and, at the same time, ominous, towards the last quarter of this track, with an increasing thrill going on, yet still focusing on the untouchable distance and confrontational tedium-like dreariness. The goal is to create discomfort and it works.
Very organically, the album goes on with Podróż Na Skraj Galaktyki (Journey To The Edge Of The Galaxy), which is way more rich and fruitful in sound. It is like a multi-layered collage of obscure droning textures and vile noises. Creepy undulations and asphyxiating manipulations are canalized into a haunting ambience that perfectly translates the ideas and inspirations behind Lovecraft's works. And Yuggoth continues that way, with austere and humdrum-like walls of remote aural dimensions at the one hand (note: as said before, that abstemious and wearisome uniformity does have a lot to offer 'behind' the sounds, once you're 'into' the concept, believe me!) and macabre, sinister pulses, sullen waves and petulant sounds at the other hand. That contrast and interplay have a surprisingly overwhelming effect, for it does cover the whole into an eldritch adventure that trespasses what you hear. It makes the listener's spirit dwell into, and through, untrodden levels of time and space, of reality and fantasy, of substance and isolationism (hence this project's self-description as being Dark Isolationism Ambient).
This contrast gets translated as well through the production. That one is unpolished and capricious, with louder moments and semi-silent fractions, but this equilibrium works naturally well. It results in another truly remarkable, and recommendable, mixture, if you want to, of Noise, Dark Ambient, Drone, Death Industrial and Space Electronics. But somehow Trwoga trespass the limitations and borders of these scenes, for they did create quite a unique, idiosyncratic and solitary (why not) product once again.
https://depressiveblackambient.bandcamp.com/album/dba-black-013-trwoga-yuggoth-2021
https://www.depressiveblackambient.pl/p/dba-black-013-trwoga-yuggoth-2021.html
https://trwoga.bandcamp.com/album/yuggoth
https://www.concreteweb.be/reviews/trwoga