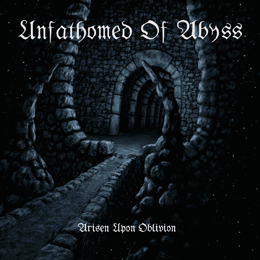 Release Date:
Wednesday, October 8, 2014
Unfathomed Of Abyss are a project by Kevin Price, a guy from Texas that started writing material for this solo-outlet in 2000. Kevin constantly re-adapted and re-arranged what he had created, with a final result, each time again, that did not come close to the original structures. That's of course one of the reasons why it took almost a decade and a half to have the first album finished. Yet I prefer this kind of working, of course, instead of writing and recording stuff too hasty (commercial pulp, I call it). Besides, it was some kind of learning process for this guy, but his motivation has been clear all over the road. Apparently Kevin even had to take classical theory during the writing process. And he states that he prefers working whole day to have a couple of satisfying aural moments, rather than creating a whole album (or even a single track) in one day which does not completely fulfil what he has in mind. And towards the end of this creative process, things started going faster and more fluent, of course. Knowledge and experience might be man's companion, as you know…
[FYI, and I think it is a great thing to know / to compare: Howard Shore, known for his motion picture music for films like The Aviator, the Departed, Eclipse, the Hobbit-series, and last but not least, the Lord Of The Rings-trilogy, writes whole day long to end up with only two minutes of interesting material he will use, or at least material he is satisfied with, at the end of that day – Kevin let me know this; I had no idea, though I am trusted with this composer's great stuff]
Anyway, finally we can enjoy the first Unfathomed Of Abyss full length, called Arisen Upon Oblivion. Kevin took care of about all instruments (drum parts excepted), as well as the engineering and (beautiful) artwork. The drums have been recorded by nobody else but Kevin Talley (I know, this seems to be a kevinish project…), whom you might know from e.g. Dying Fetus, Misery Index, Six Feet Under, Chimaira, Daath and many others. And the mastering was done at the famous Strype Studio with Tom Kvålsvoll (think: Vinterriket, Limbonic Art, Svartahrid, Ragnarok, Alkerdeel, Drottnar and tens of tens of tens of others).
Arisen Upon Oblivion consists of six titles with a very cohesive result, despite such a long period of creation and despite a very lengthy duration each. The album starts with To Unequal The Balance Of The Cosmos, which is the longest epic with its duration close to a quarter of an hour. The opening sequence immediately surprises. The first minute brings morbid and obscure, technically well-executed Metal Madness, and then it organically transforms into an excerpt based on piano, bringing introspection and melancholy. Then the initial Tech-concept returns, being based on a pushing rhythm section, highly technical riffs, and subtle atmospheric synths. And after four minutes, I start getting really happy: overwhelming, intense Death / Black Terror, still balancing in between crafted technics and mesmerizing spheres. It's truly 'full', i.e. it sound massive, powerful and majestic, as a multi-layered sonic assault. Then, after a while, everything calms down once again, yet without losing the initial sonic oppression. This track, and the same goes for the following compositions, permanently interchanges in between apocalyptic and chaotic harshness at the one hand, and sober, serene tranquillity at the other, as an allegory to the order and chaos of the Cosmos.
And that, as a matter of fact, is the story behind the album, the concept, the essence. Arisen Upon Oblivion has become a symphonic album, yet not the kind we're used to. It is the next generation of Dark Aural Art what gets performed right here, with the intention to go further than what we're trusted with. Besides, the focus on Black Metal and bombastic ambience gets honored by the presence of elements from related genres, like Cosmic Black Metal, Depressive Black Metal, Funeral Doom, Tech-Death, Symphonic Death Metal, and Morbid Doom-Death, as well as the non-metalized influences from Dark Ambient and Neo-Classical (though rather supportive than prominent; yet of undeniable importance). The result is very intriguing, but because of the multi-dimensional approach, you need some perseverance. After one listen, you probably might crave for more, and after the second one things might get little clearer, yet still it takes more listens before you can fully analyze this sonic experience. But since it took more than a decade to finalize this album, it's rather evident you won't get through that easily. …luckily (for it proves the creativity and persuasion of this project, of course, as you might have guessed in mean time)…
A final word about the sound. Since most 'young' one-man armies that take care of the whole recording process themselves come up with a production that is beneath acceptance, I need to mention the fabulous sound quality. This album sounds as if it were recorded in a professional studio, yet without being over-produced, or without dwelling in spheres of sterile cleanliness. One remark, however: sometimes I do not comprehend / understand the lyrics (and after almost three decades of passionately being 'into' the scene, I usually can unravel the textual part), and that's both a curse (you might miss the point) as well as a blessing (by making it all even more mysterious).