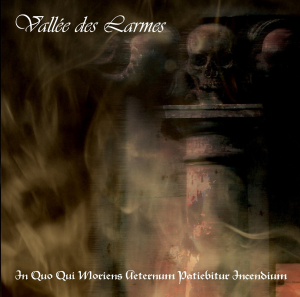 Album Title:
In Quo Qui Moriens Aeternum Patiebitur Incendium
In Quo Qui Moriens Aeternum Patiebitur Incendium is the second Vallée Des Larmes album for Depressive Black Ambient Records (there is a third one in the meantime, by the way; and a review on the former one will probably get finished and published soon too, despite the fact that it is 'older' material). Vallée Des Larmes hail from France and create Dark Ambient Music with a religious atmosphere. Like most stuff on the great Polish label Depressive Black Ambient Records, it is a very limited release, which comes in an edition of one-hundred pro-CDr's. And it might not be surprising, for the cover-artwork is overwhelmingly stunning, and perfectly fitting to the sonic side and the thematical concept of the album, of course.
In Quo Qui Moriens Aeternum Patiebitur Incendium clocks seventy minutes and brings material, and I quote, with the spirit of old churches or forgotten cathedrals. Somewhere the sound bounces off the crumbling walls and the dark images of saints. It is like a rich amalgam of sounds from different sources: eerie keyboards, different forms of percussion (drums, chimes, gongs, cymbals and so on), samples (field recordings, a huge amount of vocal recordings etc.), different voices (from throat-singing to Gregorian choir chants), chimes and so much more.
It's sort of meant for prey, though I think meditation will work too, and above all a sort of 'losing oneself into the subconscious'. Haunting and eldritch excerpts go hand in hand with rather mesmerizing, floating passages, permanently injected by psychically twisting additions, bizarre and indefinable noises, and elements from Drone, Death / Dark Ambient, Ambient Noise Wall, religious and ceremonial samples (from many sources: Orthodox / Christian, Buddhist and shamanistic, amongst others), 'real' instrumental injections (like some acoustic guitar-work) and audio-recordings.
It is quite difficult to get through this album (like it was with the former one). But it's that challenge that teases and pleases. Each single composition (I can't call it a 'song') is a separate construction, yet after a couple of listens (patience and endurance are great yet necessary companions!), one might unravel the cohesion behind In Quo Qui Moriens Aeternum Patiebitur Incendium. It's a transcendental guide through the self, and towards the Inner Eye, created via a multi-layered collage of sonic origins. Sometimes it exhales relief, illumination or contemplation, then again impenetrable obscurity, penance and redemption. Confusion and scepticism too are keywords to define the underlying atmosphere, and so are isolation, voidance and nihilism; aurally and conceptually.
Every single title on In Quo Qui Moriens Aeternum Patiebitur Incendium confronts the listener with all dualities and contradictions of life; once again, and I repeat: both aurally and conceptually. The messages are veiled in chemicals and anesthesia, like the enthroning of a newly-risen messiah, mumbling secret sermons, prevailing against falseness and hypocrisy. Yet still this 'Music' goes further, much further, than just preaching about love and hate. Or, in short: I recommend listening (a couple of times) before trying to understand the totality. But I am sure some will revere and venerate, with contemplation, apprehension and awe.
https://www.depressiveblackambient.pl/p/dba-black-016-vallee-des-larmes-in-quo.html
https://depressiveblackambient.bandcamp.com/album/dba-black-016-vall-e-des-larmes-in-quo-qui-moriens-aeternum-patiebitur-incendium-2021
https://valledeslarmes.bandcamp.com/album/in-quo-qui-moriens-aeternum-patiebitur-incendium