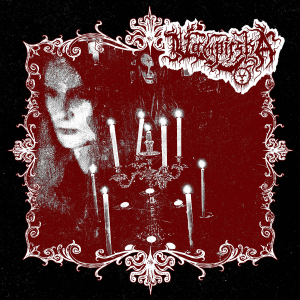 Album Title:
Vermilion Apparitions Frozen In Chimera Twilight
Vampirska are a young yet mysterious entity from North-American soil, which I do appreciate a lot. Due to circumstances, however (and unfortunately), I did not have the time to write a review on this act's (fabulous) stuff before. But hey, now I will inject my energy in a description of this project's latest recording, which is called Vermilion Apparitions Frozen In Chimera Twilight.
Once again, this new Vampirska-recording will be released via Lithuania's finest Inferna Profundus Records (such fine and dedicated label). The digital release was foreseen for the first of January 2022, and it got followed by a compact-disc pressing and two different editions on vinyl; limited, of course. It does consist of six individual (yet cohesive) tracks, having a total running time of almost forty minutes. The material was written and recorded over a long period (Summer 2020 – Summer 2021) under an alleviating daze of escapism and nocturnal astral projection.
The biography, at least the part describing this new release, mentions 'an establishment of new sounds, and an extension of familiar sounds [] redefined into darkness with an all-destroying ritual for the supernatural devastation that captures the unfamiliar essence of the entity'. Well, 'all-destroying' and 'devastation' are carefully yet correctly chosen descriptions for sure, but 'new sounds' might seem confusing, for the spire of this project's Aural Art is still based on the glorious magnificence of the old-styled marvel from, well, three decades ago; indeed, the purity of the origin, the glory of the past.
What strikes me in the first place – and that might define the renewed approach, at least for a bit – are the titles of the six compositions: lengthy, abundant, even effusive. But it says a lot. What about The Vampyric Condition: Romanticism & Mystique Masked By An Empty Face… To Never Be Seen Again…? Or Midnight: An Illusive Vision Into The Boundless Sky Of Mourning Stars With Prominent Eyes?...
Before going to the essential core of this project's raison d'être, a word about the intro Dreamblack: Drowning In Anhedonia. It's a piece of old schooled Dungeon Synth, yet with such obscure, ominous, crepuscular mood. Ultimately bleak synth-lines get penetrated by a rough sound of sampling (rainy noises) and some haunting percussions. Damn, it does create gloomy expectations for what's next to come.
And that 'next to come', well, join me, naked, into the darkened woods, to dance around the moonlit fire at dusk (a fit of poetry filled my brain). Vampirska bring uncompromising blackened Aural Art, lacking any trendy or modernistic approach. This is the purity of the Old School going on, in both song-writing / performance and sound.
First a word about that sound. The production is rough and ragged, lacking any narrow-minded form of clinically-polished decency. This is how rusty barb-wire would sound like if it made any noise. Yet despite the impure and scabrous sound quality, the equilibrium of all elements is well-balanced in its specific sense. Leads and bass guitars, voices and percussion, and the additional synths; everything is flawlessly discernible. That's a good thing, evidently, for all elements are of equally high importance.
Okay, the better part is constructed around atmospheric guitar-leads especially. The tracks are based on epic and ambient melodies in the first place. Yet at least as important as those lead-guitars are the rhythm instruments and, of course, the vocals and synths. The latter, the keyboards, do play an important role within the mood-setting. They are not constantly present, yet when used, those chapters create, or substantiate, the spirit behind the album's concept. It colors (or it does the opposite, abating any hint of color) the ambience when needed, time after time with grandeur and precision. Great too are the down-earthed bass and rhythm guitar lines, reinforcing the totality of the sonic journey. As said, regardless of the nodular production, one can clearly differentiate all individual players, even these rhythm instruments. And those drum patterns; what a great result. The percussion-work is quite diverse, yet fitting at the right moment: sometimes fast and pounding, then again complex or even involute. Here too: never performed with exaggeration or dramatization, but accurate and carefully executed.
Totally appropriate is the timbre of the screams: raw and raucous, even 'echoing', distantly reverberating in a certain sense (which influences the hint of astral elegance). These 'hollow' voices add a dimension of ceremonial or spiritual whimsiness, capricious and reliable at the same time. It's like a prayer to the ones who bear healing and convalescence, creating, or sermonizing, a spiritual engagement of same-minded dedicated souls, with devotion, realism and grief as mutual guideline.
The better part is energetically performed, with up-tempo to fast chapters predominantly, including both oppressive, even mesmerizing, decelerations at the one hand, and some rabid, militant outbursts at the other. However, regardless of the speed, the vigor remains remarkably consistent. In combination with the noble atmosphere, the thrilling ambience and the uncompromising sound-quality, one cannot but conclude: as in the afterlife, there will not be a subsequent gateway to serenity…
https://www.ipr666shop.com/vampirska-vermilion-apparitions-frozen-in-chimera-twilight-cd
https://www.ipr666shop.com/vampirska-vermilion-apparitions-frozen-in-chimera-twilight-lp
https://infernaprofundusrecords.bandcamp.com/album/vermilion-apparitions-frozen-in-chimera-twilight
https://vampirska.bandcamp.com/album/vermilion-apparitions-frozen-in-chimera-twilight