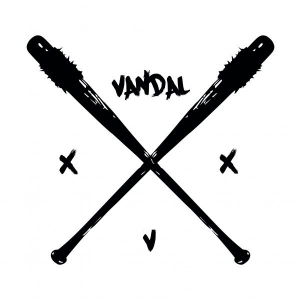 Release Date:
Friday, December 10, 2021
(short review, but I felt the urge to party along with the vandals…)
To celebrate their 25th anniversary, Flemish act Vandal X and the mostly open-minded label Consouling Sounds (9000 Records, who actually release this recording, are part of that family; they did take care of 2019's Blood On The Street too) come up with XXV (indeed, the smartest ones amongst us did find out that this is the Latin writing for '25'). Actually, the fiesta was foreseen in 2020 (the band initially started in 1995), but some well-known yet audacious virus decided to spoil the fun; you might have heard about that naughty beast from Asian origin. It does not matter, for here we do have, finally, a unique compilation on vinyl and CD, a sort of 'best of' with several rare and previously unreleased, as well as live material.
I won't go too deep into this band's history or discography, yet I will give some interesting facts, just for fun, for free. Vandal X were the first band from Belgian soil to work with Steve Albini, they did play live on stage with the likes of Sonic Youth, Fugazi and Unsane (amongst others), they performed on Pukkelpop a couple of times, enfin, they do have a rich, fruitful history, which resulted in a huge and loyal fanbase.
As said, I'll keep it short and focused. This duo conquered the Noise/Rock scene as from the second half of the Nineties. Their anniversary gift to us consists of an LP on white vinyl, a kind of 'best of' thing with some remixed and remastered stuff from their cool discography (it all started in 1997, I mean that their first full-length was recorded and released back then). The other part is a compact disc with demonstrational and previously unreleased tracks and some live recorded songs.
The 'best-of' LP comes with stuff from the last two decades especially (the first decade of this century for sure), representing this band's ability to combine pounding rhythms and sludgy structures with aggressive vocals, neo-progressive Spielerei, hypnotic passages, frenzy and distorted guitar assaults, and Punk / Crust laden atrocities. You do know it of course, but it comes with aspects of Thrash Metal, Hardcore Punk, Grunge, Noise Rock, Sludge, Industrial Metal, Screamo, Punk-Rock, you know, well, you know. The band has always done their own-faced thing, taking influences from the different scenes that did have a prominent influence, translating it into their own, self-developed vision and execution. This compilation for sure does show their specific excellence and elegance, this is why they belong to the worldwide top of the scene.
More dissonance and rebellion comes via the 'rarities' compact-disc, which offers not less than twenty rare, previously unreleased, live-recorded or hard-to-get elegies from these sweeties. You might know that these guys have always done their own thing, spitting on compromises or conventions, with their erected middle-finger gone wild into the ignorant's ass, full of irony, lacking any form of empathy or resignation. This additional sampler does give us an idea of what we might have missed – or what these guys are capable to: sarcastic overpowering and insulting nonsense whatsoever. Okay, the sound quality often sucks, but WTF does one care. It's not terrible; it's just a registration of live-registered material, and the focus must be, eh, focused (?) on the performance indeed. It's the atmosphere, the experience, in combination with the overwhelming execution and unique song writing / performance, that exceeds the limits of acceptability.
To keep it to-the-point: for old times sake, fuck 'm all, and no more crying shame, for we've had enough… …or something…
https://www.facebook.com/vandalx1995
https://consouling.be/label/9000-records