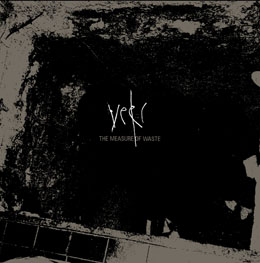 Veér are, as a matter of fact, the continuation of Hungarian act Ravenshades, and consists of (former or current) members of e.g. Witchcraft, Kolp, Koprofaagia, Vortex and Sanguis In Nocte. Within the recent Concreteweb-update, you can check out the reviews on the new recordings by both Kolp and Witchcraft, by the way.
The moniker transformation from Ravenshades into Veér took place in 2008, and in 2009 the band released the first album, called The Measure Of Waste, under their new name. The material has recently been re-released on tape and vinyl version, in respectively 55 and 300 copies only.
Veér's The Measure Of Waste lasts for thirty six minutes and brings somewhat Scandinavian-inspired up-tempo Black Metal with a rough sound and a destructive, misanthropic spirituality. The songs are little melodious, including a certain Post-mentality (cf. Khold in certain specific riffs) and pounding / battering in strength. The smoldering 'hail to' towards the Norwegian scene is a true tribute-payment, which also corresponds to a total lack of having an own face. But like it is the case with so many Hungarian acts (and again I will refer to the reviews of Kolp and Witchcraft, or other recently posted stuff from Bornholm, Mystagog etc.; check them out (the latter in the archives section)), their non-originality gets compensated by persuasive, massive, professionally performed and perfectly written hymns. Again, there is no need to explore previously unexplored fields if the quality atones any lack of originality.