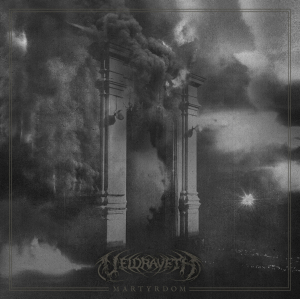 Release Date:
Monday, November 29, 2021
(released a year ago, but too great not to get reviewed…)
I am not sure whether Martyrdom was recorded and released exclusively to celebrate their twentieth anniversary, but it is a fact that Veldraveth started in 2001, about exactly twenty years before this fourth full-length studio recording / release. Throughout the years, there were quite some line-up changes, but founding member Michel 'M' Doueihi and some (session) musicians did record this newest album at the Dae Home Studio, with mixing / mastering assistance by Randy Garcia behind the desk.
This easily brings me to a first expression of positivism (indeed, this seems as if I am trying to spawn a message of optimism and good vibes; please forgive me this cheer and mirth), but the sound on Martyrdom simply kills. It's raw, it's brutal, it's uncompromising and harsh, yet at the same time it has been done with a splendiferous balance in mix, and a sweet ear-caressing delicacy.
The result is a seven-track album, released in a partnership of Russia's More Hate Productions, GrimmDistribution (Ukraine) and Chile's Kuyen Producciones, with distribution assistance by Black Metal Propaganda Deutschland. The jewel-case compact-disc was pressed in an edition of 500 copies, coming with a twelve-page booklet that includes the lyrics. These ones are written (and performed) in English and deal with blasphemy, anti-Christianity, misanthropy and mortality, seen from both cosmic, religious, social and personal point of view.
With Martyrdom, this Venezuelan band offers fifty-two minutes of intense Black / Death Metal that  sounds both universal and timeless. It brings an organic combination of chopping intensity at the one hand, and a well-crafted melodicity at the other. Another point of contrasts that works very well is the interaction in between mid-tempo parts, which exhale a certain epic attitude, and blasting, almost stroboscopic explosions at the other, sucking all oxygen out of its environment.
The structures and melodies are technically executed and ambitious, with a lot of intrepidity and audacity behind the string-work and percussions. When it comes to the four- and six-string work, one can expect 'tradition' in the vein of the Old School, smoothly combined with a modernistic elegance that surpasses the average. Quite comparable is the diversified drum-work, with sophisticated patterns, pyroclastic rumbles and infuriating hyper-tech designs. If you combine this (in collaboration with the aforementioned variety in tempo and structure) with the beastly throat by Vel, one cannot but expect a sledgehammer-with-finesse. It's more daring than cutting your toenails using a guillotine, or having your hair cut underneath a thresher.
That voice, by the way, adds a specific morbidity to the whole game, for it is harsh, varied, and totally uncompromising. The better part is grunting, with a bleak and blackened edge, but Vel sort of rises above a recognizable type of style. This guy pukes out his lungs, yet despite the extreme use of his vocal chords, he never dramatizes or exaggerates.
On top of the technically well-worked-out shapes and constructions, the few discordant anti-riffs, the few epic fragments, and the occult-themed poetry lift the whole up to elitist dimensions. I would like to refer to the lengthy last hymn on this album, Epithome IV: Clausura, in order to experience the diversity, despite a very one-directional morbid attitude.
Not for the weak-hearted, but recommended if you want to annoy your narrow-minded neighbors. I assure you: it works effectively!
https://veldraveth.bandcamp.com/album/martyrdom
https://grimmdistribution.bandcamp.com/album/075gd-veldraveth-martyrdom-2021
http://satanath.com/distro/item/075gd
https://morehate.bandcamp.com/album/martyrdom
http://www.morehate.com/release.php?page=4
https://kuyenprodchile.bandcamp.com/album/veldraveth-martyrdom
https://www.youtube.com/watch?v=WUKxiGoBhYE