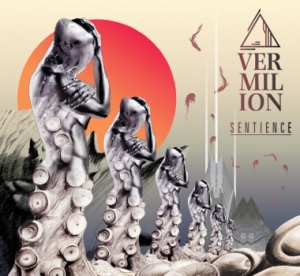 Release Date:
Friday, February 27, 2015
Vermilion are a Belgian quartet, consisting of Michael Penson (keyboards, synths, sampling, production, mix, mastering), Timmy Segers (6- and 8-string guitars, lyrics and artwork), Tom Vansteenkiste (drums, samples, programming), and Tom Everaert (fretless & 5-string bass). They were founded to canalise their mutual appreciation for influential acts such as Opeth, Meshuggah, Dream Theater or Neurosis, and now they come up with Sentience, an instrumental eight-tracker that trespasses narrow-minded borders. The material gets released via Consouling Agency, which is a label for self-releases under technical and supportive / promotion guidance of Consouling Sounds. More about this fabulous label on: consouling.be.
Sentience tells quite a bizarre, somewhat lovecraftian story with a futuristic, post-apocalyptic vision of doom and hopelessness (or is it hope; maybe I haven't revealed the secret messages yet), yet since this stuff is instrumental, the artwork helps for sure. But to comprehend the musical approach, it might help to read the story – but that's up to you.
Musically Sentience is mainly based on technical and up-tempo Progressive Metal with lots of elements from other genres: Jazz, Acid Jazz, Funk, Groove and even Post-Rock. This aural fusion is at the same time adventurous and atmospheric, darkened and enlightening, imaginative and captivating, energetic and above all: creative. I think it is not that weird to mention acts like Animals As Leaders, Unexpect, Special Defects, Periphery, Garth Arum, Diagonal, Extol or Meshuggah, and even the likes of Dream Theatre, later Opeth or some of Devin Townsend's projects.
The stuff is multi-layered, with 'real' instrumental passages, electronic excerpts, semi-noisy elements and psychedelic, somewhat Djent-laden pieces. Also atmosphere-wise there's quite some diversification in between integer, hypnotic, doomy, menacing and even malignant emotions. And that's a good thing, I think. Personally I am not into this kind of Aural Art at all, but seen the variation and the different levels, the album can hold my attention (for the third time in mean time). And though I am, therefor, not that trusted with this specific genre, I am pretty sure Vermilion are one of the better ones within the current scene! Once again Made In Belgium, yet with international fame in mind!