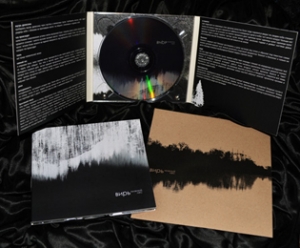 The Russian one-man army Vir' (something like ВирЬ) was formed at the end of last century by multi-instrumentalist / vocalist Sergey Milushkin in the city of St. Petersburg. Throughout the years, he worked with session drummers to record the material he wrote. Vir' released a first album in 2006, called Nizhny Les, and a second one in 2008, which was entitled Horna. Last year Zhelezobeton released the split / project-CD of Vir' with Otzepenevshiye, and 99 Screams Series, acting under the banner of Kunsthauch, is about to re-release the debut Nizhny Les (I'll give it a try: НИжнИИ лес) from July 1st 2006. FYI: the guy who took care of the drumming duties at that moment was Denis Romanov, if I've been informed correctly. Besides, there were some guests, performing unusual instruments like balalaika or Jew's harp.
Anyway, this re-edition of Nizhny Les lasts for seventy five (!) minutes, and that's quite a challenge. Even I think it needs courage and bravery to get through these five quarters of an hour. The album stands for an eccentric form of Drone, yet with nothing that touches the border of 'usuality'. Nizhny Les starts with a short yet crazy, disturbing and pretty noisy intro, and this Noise will appear more than once again. Chto Proiskhodit, the first 'song', starts with a melodious semi-acoustic riff, soon joined by some percussion, before turning into a slow-paced, bass guitar-driven Sludge monster with lots of changes in speed, melody and approach. Harsh droning parts interfere with integer, quasi-psychedelic semi-acoustic ones, including a specific Post-Rock spirit and the Noise-interruption I just mentioned. With most tracks on this album it goes the very same way: a mixture of Noise, Sludge, Post-Hardcore, Drone, Psycho-Grind and Grindcore with lots of breaks and hooks, simplistic 'melodies' and a pounding bass lead.
What's wrong? The vocals, to start with, and this counts for the whole album, are one of the things that unfortunately irritate me. Sergey's screams are of the hysterical kind, and after a while that's quite annoying, I'm afraid. And when he sings the clean way (what happens only very sporadically), my ear drums want to escape out of my ears… Another thing I do not like is the bad sound of the percussion. This does not mean bad play, for the performance is quite all right; it's just like the drums sound as if they were done on tin cans while being recorded in a rusty container.
What's all right? Well, actually I do really like the bass guitar sound, as well as some of the weird 'instruments' Sergey uses (like harmonica or violin, samples from whatever, or objects such as vacuum cleaner, coffee mill etc.). Also the variation within each composition (the changes in structure and tempo I mentioned) are a surplus, for otherwise this sonic experiment would have you ending in some mental asylum. Some parts are really interesting to enjoy (though it's up to you to decide which excerpts you do like and which ones you do not), even though there is not one single minutes that can be defined as comfortable or relaxed. I usually have a very tranquil heartbeat, but after experiencing this record for the third time right now, it's accelerating up to almost 70 bpm… Oops, close to a heart attack???
Just to confuse you, my personal contribution of utter disturbance: consider it a mixture of Stagnant Waters, Oskryf, The Body, Lamp Of The Universe, Nadja, Pneu, Black Sun, Painkiller (the one with John Zorn) and Spektr, and you'll still have no idea…