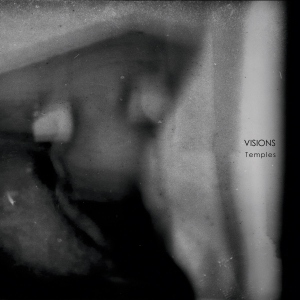 Cyclic Law is a label that houses in Berlin, Germany nowadays. The label started its activities in 2002 in order to promote the Ambient / Industrial scene. The focus lies on the release of Music recordings (releases via the digital sources, as well as on vinyl and compact disc), but in the meantime the activities got expanded with the release of books / visual art (Cyclic Press) and mastering assistance for electronic sonic art (in its most open-minded definition) (Cyclic Law Mastering).
All this gets run by Frédéric Arbour (if I'm not mistaken, he originates from Canada), who acts as a musician too. Frédéric is the guy behind many projects, like Instincts, Havan or Skorneg. But he is the driving force behind Visions too, an enigmatic outfit that was formed at the beginning of this millennium. And that's what this review will deal with: the newest Visions album Temples, which follows Spring 2018's collaborative effort with Phurpa (link: see below).
Besides a digital edition, Temples is available on CD, as a four-sleeve digipack (matt laminated), limited to an edition of 500 copies. Everything was done, evidently, by Frédéric (song writing, recording, mastering and, I think, the magnificent artwork). The album consists of seven titles, having a total running time of about forty-six minutes.
I think that it is striking that, after the first moments of opening piece Traces, you see, and feel, the concept of this newest epos. More than ever before, Visions descends into the most oppressing, obscure and ominous pits behind the unexplored abyss. This track, for example, Traces, slowly builds up, evolving from a smoky to an almost asphyxiating aural experience. Like a massive drone, this pitch-black ambience is breath-taking, astonishing, and at the same time scarifying but fetching too. Great introduction to the narrative of Frédéric's dark-minded visions. Hey, that moniker might not be a coincidence after all…
No, seriously, this album goes higher, delves deeper, crosses secret borders and trespasses restricting limitations, by painting a very grim, almost post-apocalyptic landscape. There are no inventive experiments, yet long-stretched floating walls of hypnotic, meditative and / or escapist waves of sound. Remarkable is to notice that you have that minimalistic, low-profiled back structure as spine, yet at the same time that enormously rich representation of subtly-injected sonic richness as well. A few listens reveal, step by step, hidden layers and well-thought additional elements, exposing multi-layered melodies and discrete additional sounds / field recordings.
The whole experience sounds heavy and dense, for the gloomy melodies have a distorted, murky and nebulae atmosphere. The sound quality itself is superb, coming with that industrialised character in some way, dreadfully threatening and thwarting, yet also acting like the manifestation of confronting revelation. The production has an extremely rough, unpolished identity, which sort of strengthens the mysterious, abstruse nature.
After humanity will be gone, physical things from lost civilizations will remain (at least for a while). It was the case in the past, with the downfall of so many tribes and societies, and it will be the very same case when the human race, finally, will be no more. But at that time, oratories, places of pilgrimage, shrines, ritual altars and temples will fight the ravages of time. This album is the ultimate soundtrack to celebrate this legacy. It reminds us of our destructive nature and fugacious existence, but it might represent hope and knowledge too. Temples is the opening gate to that next level…
https://cycliclaw.bandcamp.com/album/temples
https://www.cycliclaw.com/releases/visions-temples-cd-119th-cycle
https://visionsambient.bandcamp.com/album/temples-2