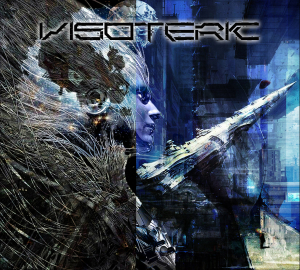 Release Date:
Wednesday, January 2, 2019
In the introduction for the re-release of Black Sorcerers Fortress by Endoki Forest, I gave a short description about the history behind the guy who runs both the young Hyperborean Age Records label and the interesting projects he's involved with. So I am not going to repeat myself; check out that chronicle in case of interest (link: below). I just wonder: John, where are you?! What with the label?...
This review deals with Demiurge Technology, which is not exactly a totally new release either (cf. higher mentioned Endoki Forest album), yet the slightly 'adapted' (i.e. with some substantive modifications, rather considerable a compilation, I think…) re-issue of the original album from Spring 2015 (initially available via his former digital channel, Volk Lore Music). Frontman Loki brings something that differs from Endoki Forest for sure with the Visoteric project, yet still this project maintains that grim, uncompromising attitude (like in all his projects; some more reviews will follow soon). Demiurge Technology consists of eleven compositions, clocking more than an hour (!) in its totality. Yet despite such lengthy experience, there is no boredom possible at all!
What this project brings is more electronised and far less ambient than Endoki Forest; probably the most electronic-oriented outfit by Loki. But hey, do not expect some infantile EBM-alike material, for the sound and the atmosphere (+ concept) are hugely more interesting. There are many, many synth layers going on, some being melodious, others focusing on rhythmic energy, then again rather atmospheric or ritualistic. The focus lies on trancelike hypnosis, sometimes cosmic in nature, and permanently obscure, asphyxiating, mesmerizing. Each single creation on this album differs from any other, though the whole experience is a very coherent and organic one. Most pieces are up-tempo, filled with energy and pugnacity. Listen, for example, to compositions like Sinister Corporation, Lemuria, Runner or Cyberoptics, with those pushing programmed beats (as said, not a permanent presence of harsh beats, like in Techno, EBM or New Beat milieus) and different melody-passages. Or what do you think about the IDM-influenced piece Into The Hive, which is almost 'danceable' in nature, with its slightly kinetic beats and its spacelike injections. Psybient at its best…
Other pieces are much more esoteric in essence. A fine example if From Darkness…Khaos, represented by enthralling ritualistic and martial drum patterns. The very short piece Memory Lapse, then again, has that touch of far-Oriental intimacy, drenched in some semi-fairylike spheres. Or what about that truly exceptional title track, permanently impending, strongly overwhelming, and including these Arab-alike female voices. Harsh yet, at the same time, 'beautiful' to undergo.
Hail to the creator of the new race, the demiurge of the liberating technologies…
http://www.concreteweb.be/reviews/endoki-forest-0