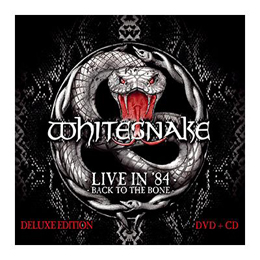 Album Title:
Live in 1984 – Back To The Bone
Is David Coverdale in need of some money, or is Frontiers Records running out of new bands I don't know, but this is the umpteenth live album from this band that is released the last years.
Of course it's true that 2014 marks the 30th Anniversary of the 'Slide It In' album, which is the first album they received multiple Platinum for.  But we've heard all these songs before, and most of them feature on one – or another – live album from this band.
The songs are still great of course, and you can hear that at that time Mr. Coverdale was so to say at the peak of his performance, and at that time the band  probably had one of the best combinations of musicians, with Jon Lord, Cozy Powell, Mel Galley, all musicians who have passed away in the meantime. On a standalone basis, I'd love this album. But with so many live-releases these last years, it has been a bit too much of the same.  I still like the album however, but I'd not spend my money on it.  Maybe I would buy the DVD though, but I only received the CD to review, so I'm not risking me on commentary about something I've not seen or heard.