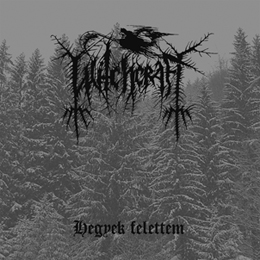 Hungary is one of my preferred countries when it comes to so-called 'Underground' Black Metal, with Witchcraft as one of my favourite acts. Throughout the years, many known names from the Hungarian scene joined the band as session or (temporary) permanent member. This time, the album was recorded by only remaining founding member, and vocalist / lyricist Angmar (also in Diecold, Hell (ex) and Mystagog; the review on Mystagog's latest record, …Of Old, a 2012-re-release from 2007, can be found in the archives section of this site),  Winterlord 'WLR' Rabenaas (guitar player and main song writer; involved with Witchcraft as from the late nineties, and known as well from e.g. Ater Tenebrae, Sanguis In Nocte, Unholy Blasphemies or Drünken  Bastards), drummer Knot (one of the two Kolp-members; for the review about the new Kolp-album The Outside: see elsewhere in this review section; he's also in Veér, with a re-issued release as well, through NHD - check it out as well in this month's update), and Elzeril (bass; involved with Veér since M. left; also in e.g. Nuclear Rape, Drünken Bastards (ex) or Vérzivatar).
Hegyek Felettem has been released in a rather limited edition, i.e. 1,000 CD-copies (27 of them include a bonus-DVD, by the way), 111 hand-numbered tapes, and 300 copies on vinyl (12"EP); the latter come with a bonus track, Az Árnyékok Földjén, which is a re-interpretation of On The Land Of The Shadows, taken from 2006's Years Of Blood (Regimental).
This new album lasts for thirty three minutes (the eight-track edition, not the vinyl version with the bonus song) and is the first Witchcraft-release with lyrics in their mother tongue instead of the English language. It goes on in the vein of 2008's Under The Crust (Miriquidi), which means: fast and melodic, rhythmic-repetitive Underground Black Metal with an attitude strongly inspired by the Norwegian scene. Don't expect a renewing approach this time either, because there is no need to start being original, of course. Unfortunately, and that's not the first time, the sound has been under-produced, and that for sure is a pity. But the compositions are, when it comes to the quality, in high-definition.
For fans of Tsjuder, Carpathian Forest, early Gorgoroth or Taake.