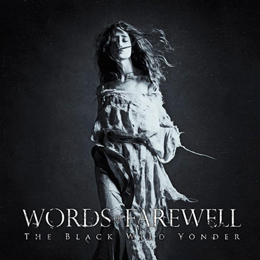 Release Date:
Friday, February 28, 2014
Germany's Words Of Farewell were formed during the first half of the former decade. When they recorded and released the debut Immersion, they gained lots of positive attention all over the world. I wasn't that enormously enthusiastic with that first full length studio album (see update July 8th 2012) (which, by the way, was released via AFM Records too), but I surely did not dislike it either.
This sophomore full length was recorded once again at the Metallurgy Studios, based in Monchengladbach, Germany, and it lasts for fifty five minutes. The sextet (vocalist Alexander Otto, guitarists Erik Gassmus and Henrik Tschierschky, drummer Tristan Wegner, bassist Konstantin Vosshoff, and keyboardist Leo Wichmann) did progress enormously. Still they bring a modern and technical form of Melodic Death Metal with a rather catchy play. Yet the songs have been written and composed with a more universal vision. The debut was rather limited when it came to the effective performance, but with The Black Wild Yonder, Words Of Farewell break out of that slightly uninspired capsule. The progressive elements, by the way, are now stronger focused on electronic additions, as well as some technical hooks, breaks and riffs. And more than before (cf. the debut full length once again), the stuff breaths an atmosphere comparable to the Swedish and Finnish ones. Immersion could have been compared to the American Progressive Metal and Prog-Death scenes, but this sophomore full album comes closer to the likes of Insomnium, Dark Tranquillity, Scar Symmetry, Mors Principium Est, In Flames etc. A slight surplus is the average strength of the tracks. Immersion lacked of those extra elements that could lift the band up from the grey masses; this second full record, however, consists of a couple of more-than-interesting excerpts, though still limited and still lacking of any modest form of originality. Therefor The Black Wild Yonder isn't but a recommendation in case you are a devoted fan of the Swedish and Finnish Modern Extreme Metal scene.