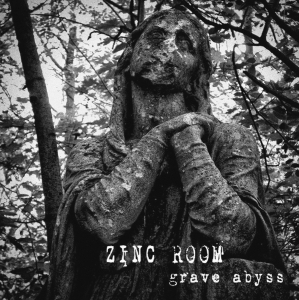 Release Date:
Sunday, December 31, 2017
Zinc Room is a Russian outfit by Alexander 'I' Syromyatnikov (the same person who runs Evil Dead Productions), assisted once again by Andrey Kein (both as session musician as being the long-time mixer / master; also known from e.g. Corona Barathri, Church Of Howling Dog, Sol Mortuus, Chaotic Bound Systems, Carved Image Of Emptiness). Both are (were) formerly active as Prognostic Zero. Zinc Room did record and release two hands full of albums in the meantime, especially via Evil Dead Productions, of course, and a few via Ostroga (run by ultra-mega-productive musician Vitaly Maklakov; this guy, by the way, was a guest musician for Zinc Room on an album like In Wooden Room). And hurray, but their latest effort gets released via one of my most beloved labels from Russian soil, Frozen Light.
Grave Abyss is the name of a very lengthy masterpiece (seventy-four minutes, with ten tracks that last in between three and thirteen minutes). It is a limited release on compact disc (300 copies) that comes with a four-page booklet, which includes sober but truly excellent artwork, courtesy of Olga 'Matvey' Matveeva (not a stranger at all for Frozen Light). I will not call it a compilation, yet some stuff has been released on former occasions.
The opening piece, the title track (the shortest one, 3:17, and that's a pity!), definitely strikes and impresses. Ultimately obscure strings paint a post-nuclear wasteland, soon joined by ear-piercing, massively droning, wretched strings, horrifying synths and industrial percussion sounds. The production is menacing, metallic and industrialised, the atmosphere truly asphyxiating and hypnotic. Distortion and noise, this first composition turns me on for sure. Cemetery Dust is comparable when referring to the use of sound sources: twisted bass guitars, sound and samples from unknown sources (there is the mention of 'spiral springs' and 'steel slabs'), and other percussion, like a triangle. The composition itself does differ a lot from the first one (and the upcoming ones – great variety), yet the atmosphere is comparable too. Eerie, mesmerizing, even spellbinding to the core, this track, consisting of differentiated chapters, creates a claustrophobic and frightening atmosphere, and at the same time it is meditative and transcendental too. It is like a ritual with an invoking character, or a trancelike séance towards the underworld of the psyche. Damn, so nice… Enter track number three (which is not a new one, for your information), Alley. Yeah, why not: a hybrid of In Slaughter Natives and Shock Frontier, what do you think… Or Glacier Light reinterpreting Skullflower? Or, well, you get the message, don't you. And so this album continues. Each piece differs from any other in basic structure, but in an organic way (a lapsus: 'organic' with these industrial soundscapes) Grave Abyss stands for a cohesive collection of noise-distortions and discrepant sound-collages, always with an atmosphere so bleak, gloomy, harsh and suppressive. Each composition consists of different layers, apocalyptic, cryptic and chaotic, yet deep-thought at the same time. Take Coffin Drone, for instance (not new either), with these metallic clings, esoteric synth lines, ominous cello lines and harsh samples: what a monumental 'song'. Not exactly a singalong, yet impressing in a way that it keeps on haunting under your skull. Or listen to the last track (the longest one, clocking over thirteen minutes), accompanying the listener into a mystic sphere beyond the physical world. The multiple samples, the metallic percussions, the eerie drones and so much more, all gets gathered into a haunting package, a sonic travel through a dimension of nightmare, desperation and schizophrenia. And what to think about Fresh Flowers Every Day, a reinterpretation of Chopin's Marche Funèbre, interspersed with samples (animal sounds) and performed in the most minimalistic but mammoth-heavy and desolate way.
Fans of Aesthetic Death, Malignant Records, Cold Spring Records and the likes, don't miss this! Zinc Room have released a monumental view into their hidden world under the working title Grave Abyss which cannot be ignored!