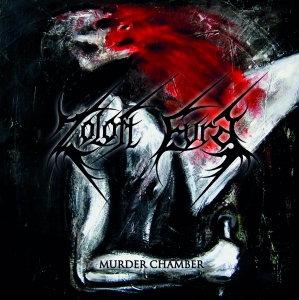 As you do know (or not, but then you will as from now on, so keep reading), Frozen Light are a label with many aural angles, yet always with 'obscurity' in mind. Of course, it is not different for this third recording by Italian act Zoloft Evra. A first acquaintance was in 2015, with Negative Infliction Pleasure (Naked Lunch Records & Signora Ward Records), followed by the three-track EP Self Destructive Comfort (Luce Sia, 2016, a split with Italian colleagues of Djinn). Later that very same year, Frozen Light released the second full length, Murder Chamber (which this review will deal with), and at the end of spring 2017, they returned with the compilation-EP Hypoxyphilia via Marbre Negre.
Murder Chamber was recorded in Italy, Norway and the U.S. of A. during winter 2016, and mixed and mastered eventually in Rome, at the Negative Propaganda Studio. The main recordings were done by Adriano 'ZC' Vincenti (drones & synths) (who's also known from his projects Macelleria Mobile di Mezzanotte and Cronaca Nera, and from his nylon-based Noise-label Signora Ward Records), Manuel 'Cold' Mazzenga (sharp razor guitars, also mix + mastering) (involved with e.g. Nocturnal Degrade, Der Noir or Scent Of Silence), and Apolokia's Blackfrost (ritual voices and artwork design). They have been assisted by some guests, but I will come back to this immediately. Oh yes, it came in an edition of 300 copies only, so pay attention!
In the vein of the debut full length, Murder Chamber goes on in a very twisted, disturbing, sick-making way. The description 'Negative Drone Ambient / Death Industrial' has not been chosen by coincidence, but it deeply reveals the nasty, perverted concept. The opener Razors Deepthroat (yes, the name already explains the sadistic approach) starts with somewhat mesmerizing drones, gloomy and ominous, even Lovecraftian in attitude. Obscure noises and eerie soundscapes are collected to create a sinister, haunting wall of sound. After two minutes, things turn, step by step, darker, when everything gets penetrated with more uncomfortable noises and samples. And when the lady (Caitlin Dituro) starts to moan – you know, passion, pleasure and pain – the climax isn't but sonically orgiastic. This track, FYI, features additional synths by Cory Rowell (of Demonologists / Harko City fame). Next comes the title track, which starts in a less oppressive way, without losing that abyssally obscure character. It rather reminds me of an extremely blackened form of Dark Ambient. Darkly whispered voices join in, followed by many layers of ferocious noises and discordant razor-sharp guitar torture. Waw, what a hypnotic creation this is, permanently attracting and repelling at the same time. Krokodil Death Ride opens almost meditative, but soon the ritual transforms into a soundtrack for a sadistic drug-ceremony. Delving deep into this piece, a suffocative atmosphere will overwhelm you mercilessly, and in a masochistic manner it is so addictive to be obedient to this sonic perversion. Nice are the many vocal samples, sometimes spoken (so cool at the end), then again summoning a malign spirit. Hypnotic guitars and anxious yet combative vocals (by Tenebra from Dreariness) are the basic essence of Deadlife Obedience. My dearest Tenebra surely is a surplus on this composition, for she spawns an extended scala of negative emotions (fear, hatred, suicidal thoughts, anger, despair and disgust, I hear them all…). Cold Hypnotic Bloodbath comes with an eerie and post-apocalyptic sound, based on many synth layers, evil whispers and dark-industrialised sound collages. This is an extremely spooky and mesmerising piece of Dark Aural Art, at the same time very minimalistic and nihilistic, as well as rich and 'full' in expression. The bewitching atmosphere is breath-taking in a negative sense, like an overdose of masochistic lust. Great. The album ends with The Screaming Wall, based on distorted soundscapes and floating waves of claustrophobic spells and reverbed-sounding rituals. It might be the most Ambient-oriented Drone-work on the album, and a perfect 'outro' for one of the best albums within this specific genre!
For fans of stuff à la Körperwelten, Testphasen Negativ, Steel Hook Prostheses and Stromstad, or even Emme Ya, Khost, earlier Atrium Carceri, Satanismo Calibro 9, MZ.412, Swartalf, Psychonaut 75 and Climax Denial! The ideal soundtrack to enjoy in a torture / murder chamber…