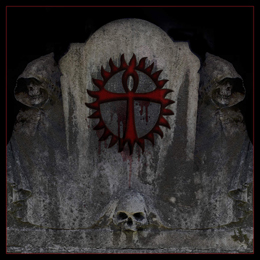 Sometimes it's great to be a reviewer, and sometimes it's rather a curse. Since I normally do stuff I might like (Black and Funeral Doom Metal, Industrial and Ambient, and some Thrash, Death, Grind, Sludge, Drone or Boogie Woogie [delete as appropriate]), I can often experience things that make me as horny as [self-censorship]. We at Concreteweb try to be as open-minded as possible. We have our specific specialities, and when something weird shows up, Tony often gets the honour to deepen into this stuff. But sometimes chieftain Dirk wants to annoy, to irritate, to bully me by handing me over stuff nobody knows what to do with it.
However, it's not always such an insuperable challenge. With Zoltan's Tombs Of The Blind Dead I truly do not know what to do, how to begin, but I cannot dislike this stuff at all. I did not know this London-based act, but there are a couple of mostly interesting things going on. Of course the sonic experience is of importance (see further); and since this is a review for a recording (even though it is an EP), the aural side is the most important. But the concept, the raison d'être is very interesting too.
As a matter of fact, this Tombs Of The Blind Dead EP can be considered as homage to the so-called movie-tetralogy. The Blind Dead was a film-series by Spanish director Amando d'Ossorio, who belonged to the greatest Horror creators in the Seventies. And the Seventies were the summum of Horror motion pictures, in both Europe and North America; each 'fan' will agree. Well, the first part was called Tombs Of The Blind Dead, and because of the (underground) success, his blind and undead Knight Templars did resurrect on screen three more times, in Return Of The Evil Dead, The Ghost Galleon, and Night Of The Seagulls. Since Concreteweb is a Music-based webzine, I will refer to the .net for more information (I can't do it right here, but I can recommend this stuff to those who can appreciate so-called Seventies Euro-Horror in general, and zombie-stuff more specifically).
Each track on this EP is dedicated to one of the four movies from this series. But it's not truly 'Music' that gets performed right here…
Tombs Of The Blind Dead opens with the title track, which starts with an eerie, haunting soundscape with inclusion of spooky voices, sludgy bass lines, slow drum patterns, droning guitar riffs and scarifying synths. …goosebumbs guaranteed! The 'song' goes on this very same way, drenching the whole journey in blood and entrails; repetitive melodies, horrific sounds and an asphyxiating atmosphere are what you get. Return Of The Blind Dead, based on Return Of The Evil Dead, is a comparable outer-dimensional piece, with a hypnotic undertone, more percussional experiment and weird sampling. It's rather a Twin Peaks-alike interpretation (Badalamenti-meets-Ozric Tentacles ???), symbiosing Lounge, Industrial and Trip-Hop; and still I have no idea what I am writing about. The third piece, The Ghost Galleon, is the most mirthful, animated piece, with repetitive droning basses, spacy synths and energetic percussion. This is Space-Prog (more specific they call their approach Cyborg Prog, but WTF…) avant-la-lettre, and après-la-lettre as well. This creepy EP ends with a very chilly 'song', Night Of The Seagulls, which starts endlessly cold meatish before transmorphing into another trippy Badalamenti-goes-nuts creation, probable the most 'musical' thing on this mini-album.
Do you now get what I mean by referring to the hard job a reviewer does?...
To experience at your own risk…