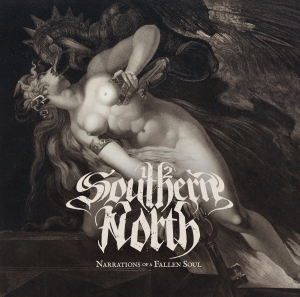 Album Title:
Narrations Of A Fallen Soul
First, to avoid any consternation or confusion: ½ Southern North needs to be pronounced as 'half southern north'. This said…
½ Southern North is a solo-outfit of IDVex, which is the artistic moniker of some Ifigeneia Derizioti, who currently lives in the beautiful city of Kalamata in the South of Greece (known from their famous olives, in case you care). IDVex wrote and composed all material for this new album over a period of several years, with session / guest assistance of some other musicians. And purely informative, but most of the older stuff, also from her former project Lothron, has been re-issued recently via Depressive Illusions Records.
Anyway, Narrations Of A Fallen Soul was recorded at the Bandapart Recording Studio with George Dimitrakopoulos behind the knobs, and it got released in a partnership of some interesting labels, and on different formats: Satanath Records (jewel-case compact disc + digital), Fog Foundation (idem; although there was a certain delay) and Les Acteurs De L'Ombre Productions (vinyl and digipack-CD [July 1st 2022] + digital), and via the project's own Bandcamp-page as well (links: see below). It comes, by the way, with cool cover artwork, based on the painting Sin Pursued By Death by some Moses Haughton The Younger (an 1804-composed reinterpretation from an older work by Johann Heinrich Füssli, painted at the very end of the 18th century).
What to expect from this first full-length album? Conceptually it deals once again with Greek mythological matter, tragedy and philosophy, death and belief, esoterica and spirituality. It clocks about sixty-seven (!) minutes, including a Bathory-cover, Song To Hall Up High.
Narrations Of A Fallen Soul is a very 'different' album, for it consists of unique, original, yet still very 'trusted' compositions. Bluntly put, Narrations Of A Fallen Soul is a Doom album. There you have it. But then again, Doom is such general description, and even-though I can sum up tens of sub-genres, I think that ½ Southern North sort of exhales its very own, self-developed post-style.
The guitar-sound, for example, deeply reminds me of Black Metal; and then I am referring especially to the likes of old-styled Atmospheric Black Metal of DSBM (Depressive-Suicidal Black Metal); and even that mighty Grieghallen-sound might be considered a not-that-strange comparison. Also a hint of Funeral Doom within the aural resonance is not that strange to mention. Yet then again, the string-work also touches the likes of Noise Rock (Elegy Of Hecate's opening's segment), Shoegaze, Americana (the semi-acoustics in Remnants In Time or the end-sequence of Breastfeed Your Delightful Sorrow are good examples), Post Rock and everything related. The production of the whole album is of a superb quality, with a very professional and perfectly-balanced mix, which easily make these guitar-lines outreach the average approach. Besides, that specific sound strengthens the occult identity behind the concept.
And when talking about that occult approach, well, what about the voices and lyrics. The vocal range of Ifigeneia is of a warm yet captivating kind. Most of the time, she 'sings' quite melodically, yet she does have a warm and, above all, bewitching colour. It combines seductive and intoxicating elements, as well as mystic, meditative, witchy and invocative ones. The force behind her vocal chords makes the listener paying attention to the lady's narrative messages the whole of the time, whenever a certain excerpt is intense, then again more mysterious (like the eerie acoustic song Hearts Of Hades, for example). Besides that incandescent tone, Ifigeneia has more to offer; like whispers, spoken words, sighs, or harsher timbres of range.
As mentioned, this goes well with the lyrical content. The better part is sung in English, yet it does includes some (ancient) Greek fragments as well. It deals with mythology etc., like mentioned in a former paragraph. Then again, it is quite in-depth; not just some heroic story-telling about 'legendary' heroes, yet a fine translation of ancient mythology into subjects of drama, life (and death, evidently), civilization, daily struggles, and more, you know…
Most of the epics on this album are, as said, rooted in a basement of Doom-oriented textures and contents. Of course, this refers to the speed. Indeed, these tracks vary from mid-tempo over slow to quite funereally-doomed. On top of it, the drum-patterns are of undeniable importance to define that Doom-oriented basement. Being performed by session musician Philippos Lyrintzis, the variety is huge: heavy beats (with once in a while even a blasting explosion), progressive structures, supportive percussions, rumbling patterns, repetitive consistencies, the use of chimes, etc.
Besides strings and drums / percussions, as well as voices, many other instruments get used, both 'evident' (synths or acoustic guitars), as not that usual. This goes for stuff like saxophone, violin and theremin, yet also for traditional instruments like the Lyre, the Kaval (a kind of flute from Balkan origin), or percussion instruments like the Davul (which you might also know as tupan or dhol) or the Dahare (like a bendir). It drenches the whole even more into an orbit of archaic elegance, collaborating well with the psychedelic and mystic-occult core behind, and around, this sonic journey.
There is a lot of variation on Narrations Of A Fallen Soul. This goes for the vocals and the instrumentation, as mentioned, yet also for each single epic on the album. With exception of the cover track, all of them are quite lengthy (in between eight and almost thirteen minutes), so this somehow can declare the diverse execution, both in between the different tracks, as within each single composition. In general – but that is a very 'hollow' approach from my side – all tracks are permanently-evolving pieces of Ancient Aural Art, rooted in the essence of Doom, and penetrated by analogous, yet at the same time manifold methods and strategies. Changes in tempo, variations in mood, evolutions in structure – sometimes complex, then again stripped to a bare essence – are permanently interacting, being canalised into a very own-faced modus operandi. It's difficult to compare (and there is no need to do so), but I think the essence might be commensurate to what The Gathering was doing in their early years (especially the era with Anneke van Giersbergen). It's a different style of Doom Metal Music for sure, yet that unconventional performance and forward-thinking viewpoint in between both acts draw a twisted equation for sure.
All songs are unique, filled by a subtle amount of psychedelic notifications, but a few are even more antithetical from 'the usual'. Hearts Of Hades (which I spoke of earlier) is aberrant, being an acoustic piece with weirdly spoken voices and traditional instruments, veiled in a bewitching, gloomy and mind-twisting nebula, covered by a magnificent ritualistic attitude. And the Bathory cover too is very 'apart' (totally divergent from most [read: all] Bathory-covers we usually get confronted with), for it consists of vocals (the melody sung by Ifigeneia equals Quorthon's) and eldritch, shrieking string / keyboard-manipulations in a noisy and claustrophobic manner.
Conclusion: it's easy: a must-have in case your Doom can withstand some self-will and eccentricity.
https://satanath.bandcamp.com/album/sat336-1-2-southern-north-narrations-of-a-fallen-soul-2022
http://satanath.com/releases/item/sat336
https://lesacteursdelombre.net/product-category/bands/1-2-southern-north/
https://ladlo.bandcamp.com/album/narrations-of-a-fallen-soul
https://fogfoundation.bandcamp.com/album/1-2-southern-north-narrations-of-a-fallen-soul
https://12southernnorth.bandcamp.com/album/narrations-of-a-fallen-soul
https://lesacteursdelombre.net/product/1-2-southern-north-narrations-of-a-fallen-soul-digipack/
https://lesacteursdelombre.net/product/1-2-southern-north-narrations-of-a-fallen-soul-lp/
https://lesacteursdelombre.net/product/1-2-southern-north-narrations-of-a-fallen-soul-digipack/
https://baumwurzel.bandcamp.com/album/root-8-narrations-of-a-fallen-soul