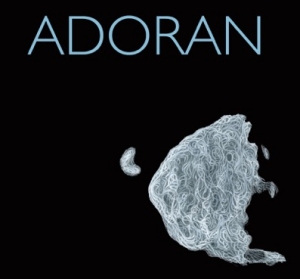 Those who are trusted with Flemish label Consouling Sounds will certainly recognize the name of Aidan Baker. Via Consouling Sounds, this Canadian artist did do some releases under his own name (I can invite you to read the [excellent, professional and intriguing] review on the split with thisquietarmy, which was posted on October 26th 2014), as well as with projects such as Nadja, Caudal (see update October 3rd 2014 for a review on Ascension) and Adoran. When talking about the latter, I am referring to Adoran's 2013's self-titled debut, but for which I, unfortunately, didn't have the opportunity to enjoy it the aural way (yet). The other artist involved with Adoran is country fellowman Dorian Williamson, who's not a stranger to this label either, for being the guy behind Northumbria. On December 24th 2014 Concreteweb posted the review on Bring Down The Sky, in case you might be interested.
I guess it won't be a secret that this sophomore Adoran-album goes on in the vein of the debut, as well as several of the projects these guys are involved with (and in a wider sense, quite some Consouling Sounds-material). The material was recorded live on April 18th 2013 (quite some time ago indeed) at the Toronto-based Polyphasic Studio, and once again the whole was mastered by nobody else but James Plotkin – think: Dirk Serries, Alkerdeel, Northumbria, Caudal, thisquietarmy, Aidan Baker, A Den Of Robbers, Le Seul Element and so on, if you want to stay underneath the protection of Consouling Sounds' protective wings…
Children Of Mars consists of two lengthy compositions, being Deimos (22:11) and Phobos (37:48 – though it comes with ten minutes of total silence, so actually it's a twenty two-minutes track, followed after ten minutes by six additional minutes). It's an improvised continuation of the nameless debut, with Aidan on drums and Dorian on bass.
Both Deimos and Phobos (and then I am talking about the first 22 minutes, cf. the former paragraph) stand for mesmerizing, atmospheric, hallucinogen soundscapes that dwell within spheres of Drone, Doom, Ambient and field recording-alike tunes. Once again the result is quite darkened, and this for sure has to do with both the performance, as well as the sound. The latter (the sound) is quite integer when needed, then again heavy and prominent when, eh, when needed too, with a fine balance in between integer excerpts and extravert outbursts. Especially within the spherical constructions of Deimos, a certain tranquillity gets promoted, yet without denying a prominent suffocating atmosphere. Deimos mainly focuses on the introspection of the inner eye, floating through dimensions of inner rest and integrity rather than extravert anger. The composition slowly but convincingly builds up, ingeniously invisible, towards an aural state of hypnosis, before organically evolving towards the sludgy heaviness brought by means of the second piece, Phobos. The drum patterns here are much more prominent, and so are heaviness, expression, force. While the first creation deals with introspective angles of droning and ambient experimental soundwaves, the second one is rather focusing on the intense and overpowering elements of Post-Sludge and Doom-Ambient creationism. The atmosphere gets denser and mistier throughout this eerie aural experiment, but then, after nine minutes, the whole suddenly turns towards spheres of Noise-Ambient alike sound collages with quite a post-apocalyptic and post-industrialised attitude. The last six minutes – and I wonder whether it's part of the Phobos-composition, or rather to be considered as a so-called 'hidden bonus track', are like some Sunn O)))-alike expression, deflowered with blackened grimness and funereally doom-laden creepiness. Isn't that great?
Anyway, once again our own Consouling Sounds prove to be one of the most important labels on our whole Mater Terra that houses the excellence of Drone / Ambient / Post / Doom / Sludge stuff, if only this release could serve as a reference…
Oh yes, finally this… It has nothing to do with the sonic existence of the Children Of Mars-album, yet with the visual side… Artwork done by Karlynn Holland, who also did some visuals for e.g. Dysrhythmia, Krallice, Salö, Solecism or Astomatous, amongst others…