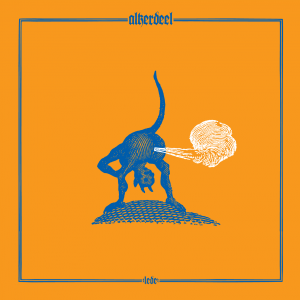 One of the sickest bands from Belgian soil, playing so-called 'filthy blacksludgedronedoom' (sounds like an erotic whisper in my ear…), is Alkerdeel, a four-piece that was formed in 2007. As from the early years, ten years ago, this trio performs an extremely raw, noisy form of, indeed, Black / Sludge / Drone / Doom stuff, and undersigned truly adores every single recording this act did in the past. Except for two, and it sadistically hurts: their split with Nihill and their co-operation with Gnaw Their Tongues. Why? Because I do not have them in my possession! It's a shame, a drama; I'm depressed, I feel lost…
No, seriously, I honestly am devastated because I do not have those two recordings (yet), but I can refer to some of the reviews I did for them before, like 2012's Morinde (Consouling Sounds; see update of January 6th 2013) or their split with A Den Of Robbers (also released via Consouling Sounds; published February 16th 2013). Those releases showed a huge progression in the band's evolution. And this still goes on.
Once again via Consouling Sounds (this Belgian label still is one of the best within its specific, open-minded, genres, worldwide!), Alkerdeel now, finally, release a new full length on both compact disc and vinyl. It was recorded in one day in a Ghent-based studio, with mastering duties done by no one else but Tom Kvalsvoll at his legendary Strype Audio. The digipack seems quite 'easy' at first, only coloured in dark-yellow with modest dark-blueish artwork (cool, like a satyr, bend over, farting up your (absolutely beautiful) face! This is the whole concept translated into one design. But even cooler is the four-folded double-sided 'comic' strip inside. A peaceful landscape, the satyr coming up (not flatulating, this time), being stuck by a mosquito, a tree-herder sort of collecting the pus (and here a third colour enlightens the palette, being white!), a raven taking over the substance, another one trying to steal it, a rat getting away with it, fleeing into the swamp… Who knows where it will end?...
And musically too, they're back as if they haven't gone anywhere! After a haunting, ominous opening guitar riff, the terror starts by means of a massive wall of guitar sounds and a colossal rhythm section. And it takes just a short while before the beautiful warm crooning clean voice of Pede joins – eh, I mean, the filthy, evil and icy throat, evidently… Opener Regardez Ses Yeux I ('look at his eyes') is like a definition of Alkerdeel's aural fury: disgusting yet monolithic, primal, barbaric and devastating, yet oh so ingeniously written, composed and performed. The technical side is quite high, going perfectly, and actually in a subtle manner, hand in hand with the no-nonsense execution. Imagine the sledgehammering intelligence of…; well, is it impolite to mention Amenra ? (of course it is not forbidden to refer to another godly entity from Belgium), with the hazy Drone supremacy of acts like Sunn O))), and with a huge Black Metal-edged middle-finger attitude that stands miles away from any form of compromise. Yes, that's what all this is about! With the second part, the band touches the regions of hypnotic post-apocalyptic Aural Art as a kind of intermezzo, even more hypnotising by the instrumental approach, and wonderfully enriched by strange, little narrating spoken words in French. It makes a nice introduction to the third part, which immediately f*cks your eardrums with a mostly morbid opening riff. More than before, it reminds me of the grandiose 'Metal Of Death' approach! Hey, even Tom Warrior alike 'ughs' join in, and with those slow-paced riffs at about two minutes, Hellhammer indeed say hello to the audience. All together: hello! Things go even nastier with the title track, like an old school assault, mercilessly storming forward, with no intention to take any prisoner, yet rather to rape the victim's skull over and over again. Fierce and fast riffs (by Pui) are heavily supported by thunderous drum patterns (drummer Nieke is a beast) and pounding and pushing bass riffs (QW). Devastating! Gråt Deleenaf, finally, even focuses more on those excellent bass parts (and the rest, of course). The introduction, once again created by Gnaw Their Tongues' Mories, adds a suffocative, oppressive atmosphere right away, but the mesmerizing melodies that carry the better part of this epic, just convince the listener about the unreal, even elusive magnificence of this sonic machinery.
Production-wise, it's at least as raw and organic – hey, I did mention that the quartet did record this stuff in one day, did I not – which makes the result sound even nastier, uglier, dirtier. Yeah, Alkerdeel, not?! That primary, even prehistoric sound quality filthens the result even more, and it simply asks to be played loud. And then I mean: LOUD! In a mostly masochistic vein you will enjoy it, when your eardrums get blown into pieces!